Clean Air Crisis in Harlem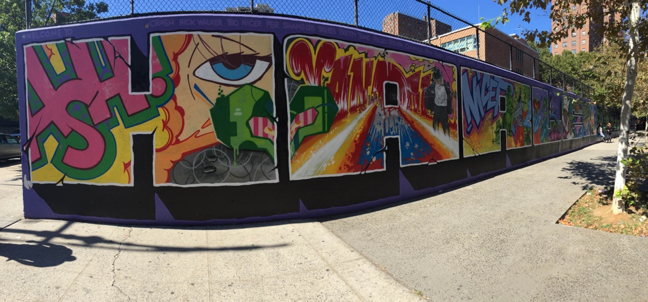 By Kaitlin Sprague
The respiratory health of East and West Harlem residents is in crisis. With 1 in 4 children of low-income households suffering from asthma as a combined result of the unhealthy air quality of their homes, Harlem citizens have taken a stand against their landlords and continue to demand change.
According to the Columbia's Center for Children's Environmental Health at the University's School of Public Health, the asthma prevalence in low income housing is a result of tenants being exposed to pollutants that come from bus depots, major roadways, excessive mold, and infestation of rodents. In contrast moderate to higher income housing is usually not located near such undesirable areas.
Matt Viggiano, the Director of Land Use under Councilwoman Rosie Mendez of District 2, described the issue with accountability as, "Landlords will see mold and its black mold, the worst, and a lot of times what they will do is just paint it over."
The 2015 indictment of 11 Department of Buildings (DOB) employees and 5 NYC Department of Housing Preservation and Development (HPD) employees showed New Yorkers that the housing problems are a systemic issue. Those indicted are facing a litany of charges including falsifying business records, receiving bribes, and official misconduct, according to the Manhattan District Attorney's Office.
Ms. Dotson-Newman is the Director of Environmental Health and acts as a liaison between the supporting partners of WE ACT and the organization. WE ACT, an environmental advocacy group located in Harlem, has launched a campaign in an effort to combat the growing issue of clean air in Harlem housing. In conjunction with raising awareness of the clean indoor air, WE ACT focuses on educating citizens about environmental issues around them. "We're not just trying to engage people in individual activity," Dotson-Newman said, "but engage the system."
In effort to promote policy change a new bill called, Asthma Free Housing Bill Intro 385a has been proposed to the City Council. This bill would hold landlords responsible for not fixing the indoor pollution problems, such as mold, followed by more severe consequences.
Right now, the violation for a landlord failing to adequately fix an issue, such as mold, is classified as an A violation, which is the least severe infraction. With the Asthma Free Housing bill the penalty would be made more serious.
"This bill would increase violations to B and C," Viggiano explained, "which if it's a C and left unremediated the HPD can take action against the owner."
This increase in accountability and punishment would incentivize landlords to provide more environmentally appropriate housing for their tenants. The bill would also require the Department of Health and Mental Hygiene as well as the HPD to report back to the City Council regarding instances of housing violations. This fluidity of communication between departments would help strengthen the bylaws of the bill and its effect on the community.
According to the New York City Council, the bill currently has 37 sponsors including Councilwoman Rosie Mendez and is still being amended.
Anna Gago who serves as the Director of Housing for Councilwoman Helen Rosenthal of District 6, which includes Harlem, couldn't be reached for comment regarding the efforts of her office. Councilwoman Rosenthal is one of the co-sponsors of the bill.
Hon. Johnny C. Rivera, the Democratic District Leader of Assembly District 68 and a lifelong resident of East Harlem, explained that change will come from the empowerment of Harlem residents. "I think it's fear right now rather than the consciousness that we can make a difference and it's upon us to do it," he said. "That is gradually coming through this process of learning."