How small businesses
helped immigrants life in NYC
Window shopping along the streets of New York City, one can feel as if traveling around the world without taking long flights. In a single afternoon you might see shops selling leather goods made in Argentina, or ramen noodles from Japan, or Chinese jade jewelry, or ceramic tiles from Morocco. They are the beauty created by immigrants and these businesses created the beauty of New York City.
New York City is a metropolis home to 207,000 small businesses with 20 or fewer workers, according to a report released by the Center for an Urban Future. Immigrants come here in search of opportunities, fortunes, and freedom. Researchers have found that immigrants started 28 percent of new businesses in the U.S. in 2011 while they are only 12.9 percent of this nation's population.
Researchers have also found that immigrants are more likely to start a business compared to native-born people. In 2011, for every 100,000 immigrants, there were 550 new businesses per month, compared to only 270 started by native-born. Even during the economic recession period, it was immigrant-owned businesses that helped prevent the economy from getting worse. In 2010, immigrant-owned businesses generated more than $100 billion, which was a 60 percent increase over 2000, according to a report published by New American Economy. And this rate of growth greatly surpassed that of businesses owned by native-born entrepreneurs.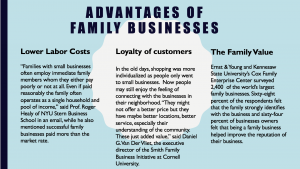 In a city of immigrants like New York, many family businesses are also immigrant businesses. In fact, some of the city's oldest family businesses were started by immigrants.
"It is very lucky for us to find something we like," says Lili Fable, the owner of Poseidon Bakery, a 93-year-old Greek bakery on Ninth Avenue in Hell's Kitchen. "I am glad to see people coming, grab something they want. And we take pleasure in it a lot." She always has a great passion for what she's making because as she says that is "the mentality of immigrants" in which people come to this country to achieve their dreams, no matter what it takes and how hard it is.
Walking into Poseidon is like walking into history. The bakery claims to be the only one left in the city that still has handmade phyllo. On the shelf inside the bakery are their family pictures, a mini statue of Aristotle and some beautiful pottery vases. The blue and white Mediterranean style display cases are the same ones that the bakery has had for more than 50 years, as if telling the story of how this Greek family's life started in New York City. "We want people to have a sense of family," Fable says. Despite Poseidon's home in the big city, the Fable family has decided to keep their business small.
While the Fables are determined to stay small Yuan Lee, the owner of a newly opened Chinese restaurant called Drunken Dumpling in the East Village, has opposite plans. "I'd like to go big, if we have the chance," said Yuan Lee. "I really want to change people's impression of Chinese food. Everyone thinks Chinese food should be cheap, but it's just not true."
Now Lee's mother is the only one in the restaurant's kitchen who knows how to make Drunken Dumpling's signature oversized soup dumplings that are served with a straw.  She can only make 25 a day which has created lines out the door of foodies eager to pick up their single $12 dumpling before the small supply sells out for the day. Encouraged by this demand, Lee says he plans to train a group of chefs, who might become the future core group of his business. "I want to send these people to the branch restaurants later. Of course, I still have to figure out how to keep them sticking to my principles of making food."
Asian immigrants are one of the fastest growing immigrant communities in America. From 1960 to 2014, the number of Asian immigrants grew from 491,000 to 12.8 million. Now, Asians account for about 30 percent of this nation's immigrants. In New York City, there are at least 12 Chinatowns, distributed over Manhattan, Queens, and Brooklyn. As the population grows, so does the market. "People are opening restaurants because they think it's easy. It does not require highly professional licenses as other businesses might do," Yuan Lee says.
But Lee is interested in something more than money, he wanted to open a restaurant out of his respect for food and love for Chinese culture. "Dumpling is a really delicate and complicated kind of food. It should never be cheap. What I am trying to do is to change people's stereotypes and I think Chinese should be proud of their own food and culture," he says.
With big thinking like that, Lee may just get his wish to grow big.
— by Jing Liu