Walkable NYC or Walkable Manhattan
According to Walk Score, a company that provides walkability information for communities across the nation, New York City is the most walkable city in the United States. It scores 88 out of 100, followed by San Francisco and Boston.
The City has over 12,750 miles of sidewalks in the five boroughs. The City Department of Transportation (DOT) has also done a lot of work to improve the sidewalk experience. DOT replaces more than 2 million square feet of sidewalk a year.
"New York City has a lot of advantages as far as walkability is concerned," said Kathryn Neckerman, Columbia University sociologist who has done a lot of research on walkability and physical activity. "Most of the city has sidewalks. It's a very dense city. It's a city with extensive public transit network. All of these things are part of walkability."
However, although New York City is the most walkable city, the walkability varies significantly across the five New York City boroughs.
Columbia University's Built Environment and Health Research Group conducted a walkability census across the city. The census showed that Manhattan is the most walkable borough, followed by Brooklyn, Bronx, Queens, and not surprising, the least walkable borough is Staten Island.
New York City zoning code, which determines the land use and densities of the city's neighborhood, has a major influence on the walkability in the city.
Stephen Miller, a graduate student in City and Regional Planning at Pratt Institute who also writes for Streetsblog NYC, a news site that covers sustainable transportation, argues that zoning codes create the ground rule for urban design for new construction. In most of the city, especially the outer boroughs, the template that is laid out is a very suburban model.
"Whenever something new is built, it is often, but certainly not always, having a suburban design layout," said Miller. "Before the zoning code, the default is a walkable urban form. I think this is important, but underappreciated component in improving walking in outer boroughs."
Added Miller: "In some parts of the outer boroughs where urban environment is not appealing to walk, people are not going to walk. Part of this is related to redesign the street. And part of this is what along the street, like the building, is appealing."
Skye Duncan, author of Active Design: Shaping the Sidewalk Experience and adjunct associate professor Urban Design and Architecture at Columbia University, agrees that when sidewalks are good they are interconnected, interesting and safe. As a result, they entice people to walk more and to be physically active without knowing it.
A good sidewalk takes the pedestrian perspective and it considers the holistic side of the sidewalk, which is divided into four planes: the ground plane, also known as the floor, the building wall, roadside and the canopy, explained Duncan. Through designing these planes, pedestrians will feel pleasant and safe walking on them.
Interventions, like built environment, to improve the walkability of neighborhoods is less effective in low economic populations, according to research by Kathryn Neckerman.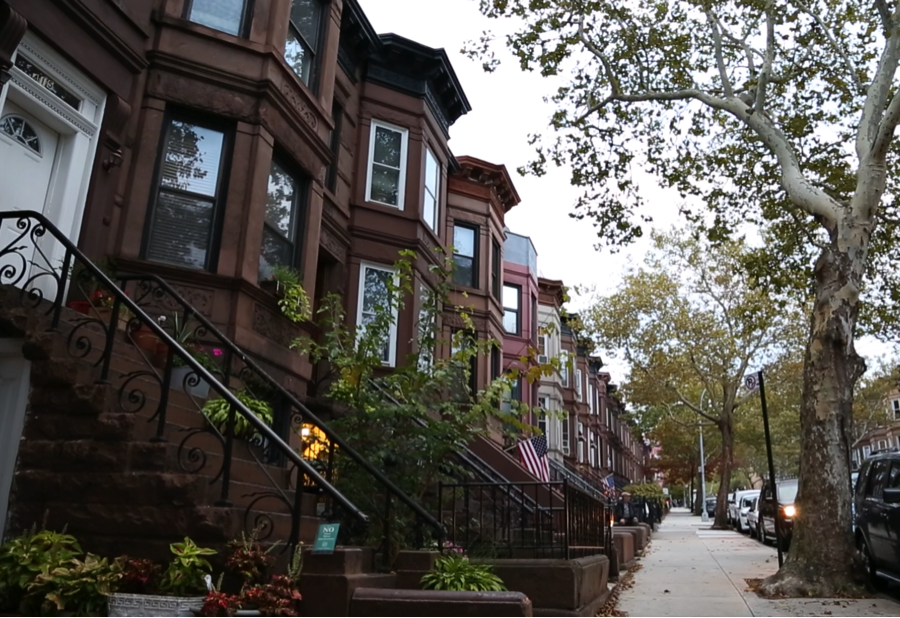 For instance, some neighborhoods in Brooklyn are quite walkable, but the social factors inhibit pedestrian activities in these neighborhoods. So in order to improve walkability in these poor neighborhoods the focus should be on crime prevention and safety issue, according to Neckerman.
Miller agrees, adding that there has been interesting research surveying lower income neighborhoods about what keeps residents from walking and crime is often a key reason.
Another factor that discourages people living in outer boroughs, like neighborhoods in western Queens, from walking is the inconvenience of public transportation.
"Every public transit trip is a walking trip," Miller explained. "At least at the beginning or at the end of the trip, most people have to get there by walking. Getting people to public transit can be difficult in areas where it is difficult to walk."
Neckerman believes that the select bus service is a promising approach to promoting economic development, improving transit infrastructure, and eventually promoting walking in outer boroughs.
~By Runze Yu