Steps to Plant the Culture of Cycling
Despite the fact that New York has become a safer and much more cycle-friendly city, with the number of cyclists increasing by 50 percent since 2008, many New Yorkers are still hesitant to get on their bikes. Cycling advocates say a lot of work can be done to make people bike more.
"Bike lanes are critical parts of promoting physical activities. It's an area we made great strides in New York in the last decade," said Kristen Day, Professor of Technology, Society and Culture at NYU Polytechnic School of Engineering. "We started to see the results of that, but it remains a challenge because New York is a very busy and urban city, and it is not the kind of city where everybody feels safe to bicycle. It's something we are continually working on, to make sure that we have a range of bicycle options for folks depending on their perceived safety, which includes off road bicycle lanes as well as more shared options."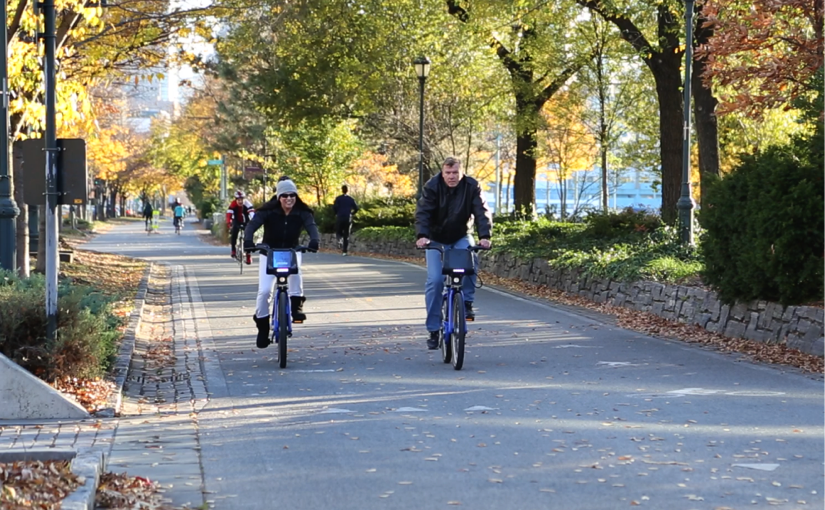 Cyclists on Hudson River Greenway
Building Infrastructure
In 2007, New York City started to install protected bike lanes, which separate motor vehicle traffic from the bicycle traffic protecting cyclists. New York's protected lanes were the first of their kind in the United States. According to studies by the New York City Department of Transportation (DOT), crashes on streets with protected bike lanes has decreased by 20 percent for both cyclists and pedestrians.

Protected bicycle lane projects with 3 years of after data include the following: 9th Ave (16th -31st), 8th Ave (Bank-23rd, 23rd-34th), Broadway (59th -47th, 33rd -26th, 23rd -18th), 1st Avenue (Houston to 34th), 2nd Ave (Houston-34th), Columbus Ave (96th-77th) Note: Only sections of projects that included protected bicycle lanes were analyzed Source: NYPD AIS/TAMS Crash Database
Dr. Karen Lee, MD, MHSC, consultant for Global Health + Built Environment, and a lead author of the Active Design Guidelines, that is used by the city, said safe infrastructure and a continuous network of designated bike lanes are two priority design components.
"If cyclists are protected from vehicles, they feel safe, and they keep cycling, " Dr. Lee said. "On the other hand, if bike lanes are not connected, or if they suddenly end on crossroads, it is not a great biking experience and cycling would be discouraged."
Mayor Bill de Blasio announced his primary traffic safety initiative Vision Zero in the beginning of this year, which aims to eliminate traffic fatalities in New York City within ten years.
"It is a very aggressive goal, and in order to achieve that goal, the city has to design safer streets," said Stephen Miller, an advocate for better walking, biking, and transit in the city, and a reporter for StreetsBlog, a information website on sustainable transportation and livable communities.

Dangerous cycling behavior on the 8th Ave.
In terms of safe biking infrastructure, there are about 30 miles of protected bike lanes out of over 250 miles of bike-able paths in New York City, and most of them are in Manhattan, according to Miller, which leaves the majority of busy streets in outer boroughs still in need of protected bike lanes. (Click here to see the NYC biking map)
Miller sighted Queens Blvd and Atlantic Ave as examples of direct routes that could be ideal for cyclists but are too dangerous now. "Many people don't feel confortable cycling on them because they are busy streets with a lot of cars. They are wide enough that they create an opportunity for these types of protected bike lanes, and encouraging people cycling," Miller said.
On the list of NYC DOT's current bike lane project agenda, nine out of 14 projects are in the outer boroughs, with 34.8 miles out of the more than 50 miles set to be improved or built. The newest project to add on the list is the redesign of Queens Blvd, which some New Yorkers call the "Boulevard of Death" and is still one of the most dangerous streets in the city. The redesign of Queens Blvd would add bike lanes to the routes to provide commuting options for residents, but meeting with the community regarding the project has yet to be scheduled.
Expanding Bike Shares
In addition to building more infrastructure in the city bike shares also encourage more biking. Launched in May 2013, Citi Bike has more than 120,000 annual members, and hits more than 30,000 bike trips on busy days.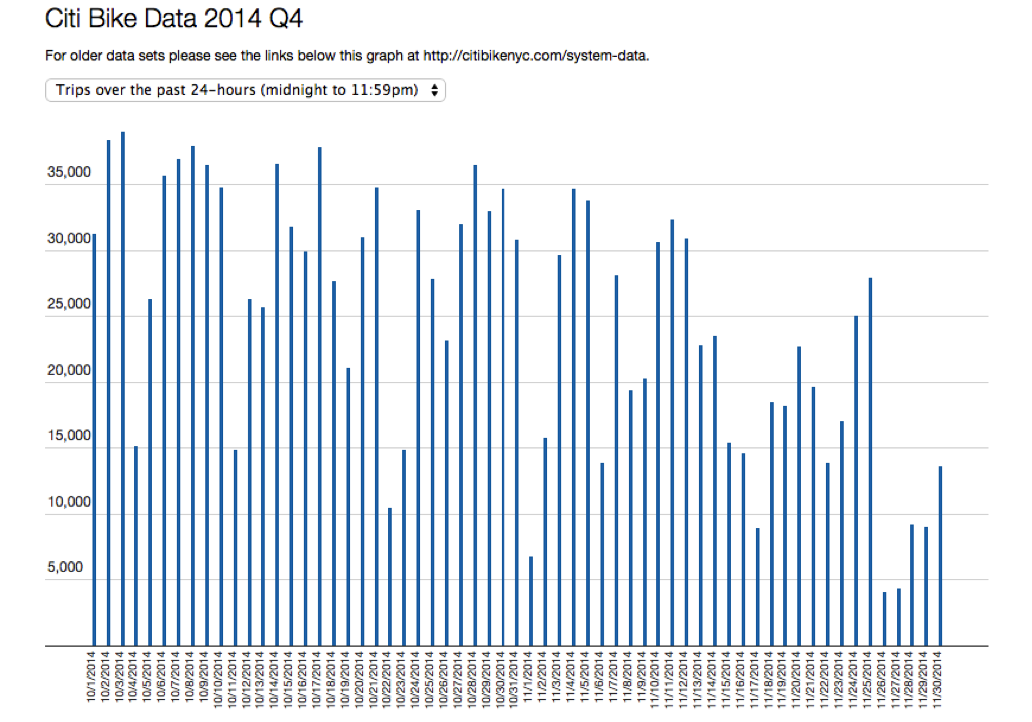 Bianca Brewer, a NYU graduate student who uses Citi Bike for daily transportation, said the Citi bike saves her thousands of dollars a year in subway fares and is very convenient.
"I don't need to worry about locking it in places, and parts that would be stolen. I can take a bike to the university, and if I don't want to ride a bike home or I am going somewhere else, then I don't need to get my bike and take it. I can park the Citi Bike wherever, and don't have to bring it with me," Brewer said.
But Citi Bike isn't everywhere yet in New York City, and has some technical problems with the docks and the app, according to Citi Bike members. In October the program's new owner, Jay Walder, promised to fix its current technology problem, expend the system and double its size by the end of 2017.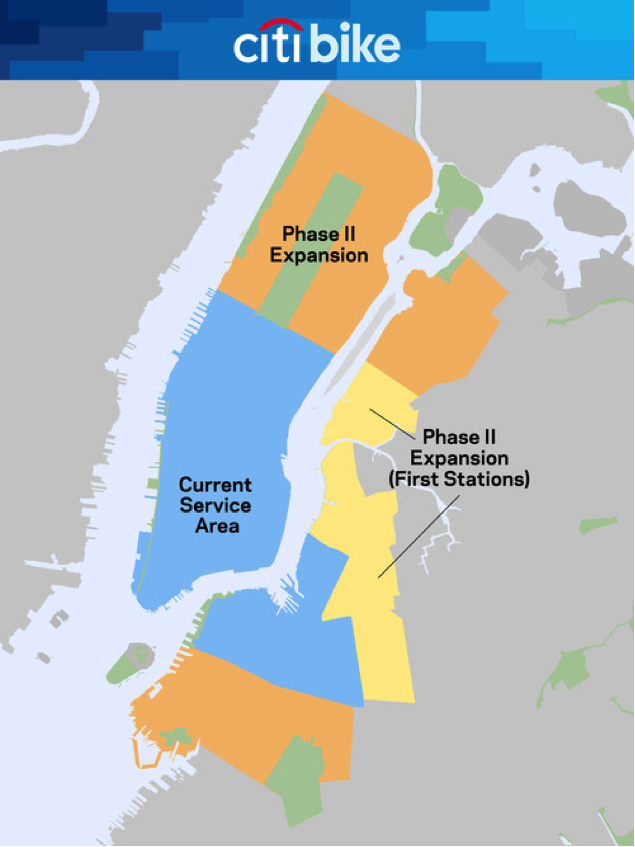 Developing a Virtuous Circle
But such expansion of cycling, whether through bike shares or bike lanes, is not welcomed by everyone. A recent USA Today report ranked New York fifth in cities with the worst traffic. John Farag, a New York City Taxi driver, is afraid that adding bike lanes could make the traffic worse. "They have a lane for fire lane, a lane for buses, so if you put another lane for bike, you don't have enough space for cars to drive."
But to active design activists that is the point. However, despite New York's efforts, a fully bike-friendly city is difficult to achieve. According to a study on New Walking and Cycling Routes and Increased Physical Activity conducted by researchers at the University of Cambridge, although activities increase in the following years near new infrastructure, the culture of walking and cycling would take about two years to develop.
Dr. Lee said as developing the culture of cycling and improving the safety and confidence for cyclists, a virtuous circle for cycling and safety is the key.
"Improving the safety for pedestrians and cyclists is one way to increase the pedestrianization and cycling. But as you increase pedestrianization and cycling, you are increasing the visibility of the mode that in terms can help to propagate to make it even safer," Dr. Lee said. "And the way you do that, is to redesign the street, so that people know that they have a space, that's dedicated for cycling, that's safe, that's comfortable, and then they will get out there bike."
~By Ruohan Xu