As people flood into outdoor locations to get some fresh air, cuts in both public and private funds are jeopardizing the services offered and the levels of maintenance. Produced by Andrea Acosta and Laura Loguercio
---
New Yorkers are Rediscovering Green Areas, but the Pandemic Looms Over the City's Parks Network
By Laura Loguercio
On an unusually warm day in late November, Central Park was vibrant with life. People of all ages filled the green lung of Manhattan, jogging, cycling, reading, and meeting with friends in the open air, trying to stay six feet apart.
Amid a global pandemic, New Yorkers have rediscovered their parks, pouring into natural, outdoor areas more than ever. Park operators, though, were not ready to manage the increased crowds, and data suggest that they won't be anytime soon.
"We know that our parks are really important drivers of stability in the city, but we are not seeing that commitment from our decision makers to guarantee that parks have the staffing and resources they need," said Emily Walker, the director of outreach programs at New Yorkers for Parks, a nonprofit organization that has been advocating for public spaces in the City for more than 100 years.
In 2019, the organization launched the Play Fair campaign with the main goal of obtaining more funds for the New York City Parks Department. During its first year of activity, the association asked for an increase of $100 million in the expected budget and was successful in obtaining nearly half of the amount. According to Walker, those extra funds helped creating 350 new positions for maintenance operations.
In 2020, the Play Fair campaign didn't quite achieve the same results. "We launched our campaign with a $200 million ask. We wanted to keep the spirit of the first year of advocacy, but also recognize that we needed more investments than what we were asking for the first time," Walker said during an interview at Detective Dillon Stewart Playground in Prospect Park.
The Parks Department hearing for the 2021 budget was set to take place on March 13, the day after Mayor Bill de Blasio declared a state of emergency in the City for the pandemic. Advocates from New Yorkers for Parks were planning to organize a rally in front of City Hall, but their plans had to change. "We shifted to doing a digital rally on Twitter," Walker said.
While forcing organizers to question their traditional procedures, the transition to digital events also created opportunities for increasing the reach of their advocacy projects: "All the barriers you had before, such as finding a space that is central for everyone or a night that does not conflict with other events, are not in place anymore," she said. "We are going to have a few interesting months as we look at the next steps for our campaign, but we anticipate that it will be a very different model than the one we are used to work with."
The group also had to downsize its original $200 million ask to $47 million, an amount deemed barely sufficient to retain the current staff and to keep the parks clean, safe and accessible. However, the 2021 New York City budget was also cut because of COVID-19, and it would not accommodate further expenditures on parks.
On May 27, de Blasio said that the City was facing a $9 billion hole in the budget for fiscal year 2021,which begins on July 1, 2020. "There is literally no way that we can solve this problem without federal help or without having to make very, very painful choices that will affect the quality of life in this city," de Blasio said at a press conference.
Eventually, the City Council adopted a $88.2 billion budget, a sharp decline from the $92.8 billion plan approved for 2020 and also from the $95.3 billion preliminary budget presented in January, when COVID-19 was just a word in the international section of newspapers.
The Parks Department suffered an initial $78 million budget cut, which was then increased to $84 million. Eventually, it received about $509 million in public funds, a 14 percent cut, the highest decrease among big cities in the United States.
Houston cut about 9 percent from its Parks and Recreation budget, Los Angeles cut 2 percent, while Phoenix actually increased the budget for Parks and Recreation by 0.8 percent. Chicago, the third largest city in the country, hasn't released its 2021 budget yet.
According to a report released by the City Council's Committee on Finance and the Committee on Parks and Recreation, part of the savings will derive from the delay in hiring about 1,700 seasonal workers, who are usually responsible for keeping up with jobs in the maintenance, operations, or trades sectors.
Public funds, though, do not tell the whole story. Every year, the budget allocated by the City Council is supplemented by the private funds raised by more than 25 nonprofit groups that cooperate with the Parks Department and help take care of green areas. In 2018, these organizations provided an extra of $71.7 million for maintenance and events to all parks in the City, which added up to the $420 million of public funds.
However, like the City budget, nonprofits are also struggling with the consequences of the COVID-19 pandemic. According to a report released by Riverside Park Conservancy – one of the groups that works in partnership with the Parks Department – in 2020 private conservancy organizations expect losses for up to 60 percent with respect to last year, which means that they will lose about $37 million.
New York City already experienced the consequences of severe and extended budget cuts on green areas. During the 1960s and 1970s, the Parks division suffered serious staff shortages, and the 1975 fiscal crisis, which put the city on the edge of bankruptcy, left the Parks Department in real trouble. The New York Times reported that from 1968 to 1977 the parks system lost 50 percent of its workforce and had its operating budget cut by 24 percent.
In those same years, Central Park became known as a crime-filled place, while Prospect Park was routinely vandalized. Only a bold reorganization of management responsibilities and a $750 million commitment from the City Council in its 1981 ten-year capital plan helped turn around the park system.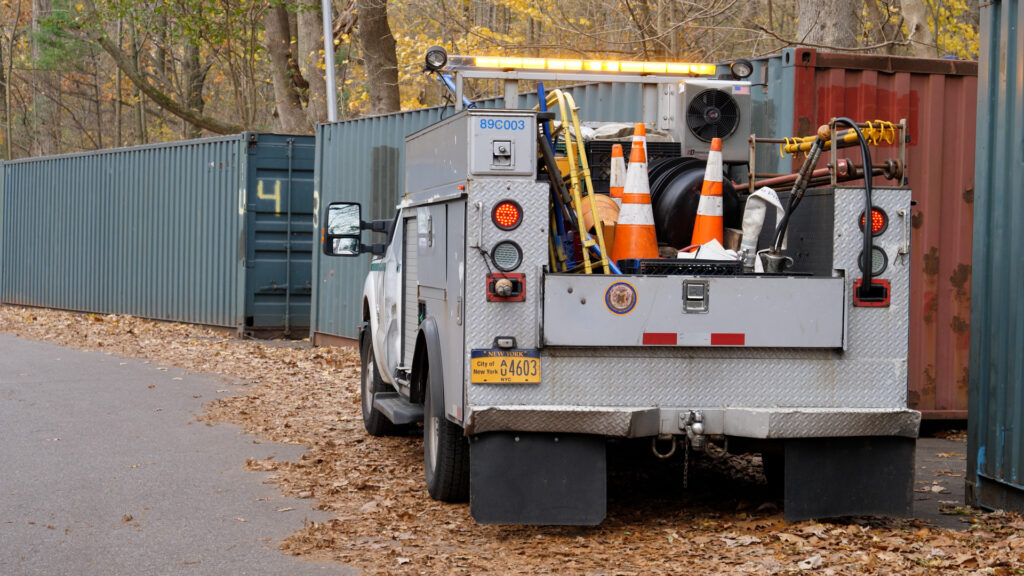 In 2020, COVID-19 left the city to deal with another economic crisis, and the quality of open spaces is already suffering with piles of trash accumulating in green areas.
As reported by Gotham Gazette, garbage complaints increased by 120 percent in 2020, with the highest rates reached in Brooklyn and the Bronx. To try and address the issue, the Parks Department launched the "Toss your Trash" campaign, urging New Yorkers to dispose of their garbage in a proper way. During the summer, many associations across the five boroughs also started similar initiatives, and in October New Yorkers for Parks organized a citywide parks cleanup in collaboration with over 60 partner organizations.
The budget cuts approved for the Parks Department come at a time when New Yorkers are urged to avoid indoor spaces, where the transmission of coronavirus is more likely, and to instead take advantage of open areas.
"The park became my social center this spring and summer. During the lockdown, we distracted our toddler with daily lunch picnics and would let her run around for a few hours to get fresh air," said Adrienne Wright Zdaniewski, who also had her informal baby shower organized in Prospect Park. "It is safe to say I spent more time in the park during the past eight months than I did the past five years."
"I live across the street from Prospect Park, and I never took advantage of it until the pandemic. Now I have been walking 3 or 4 miles a day there," said Judy Kameny Applebaum. "We have starved for open spaces, and I am finally rediscovering the park after living here for 15 years."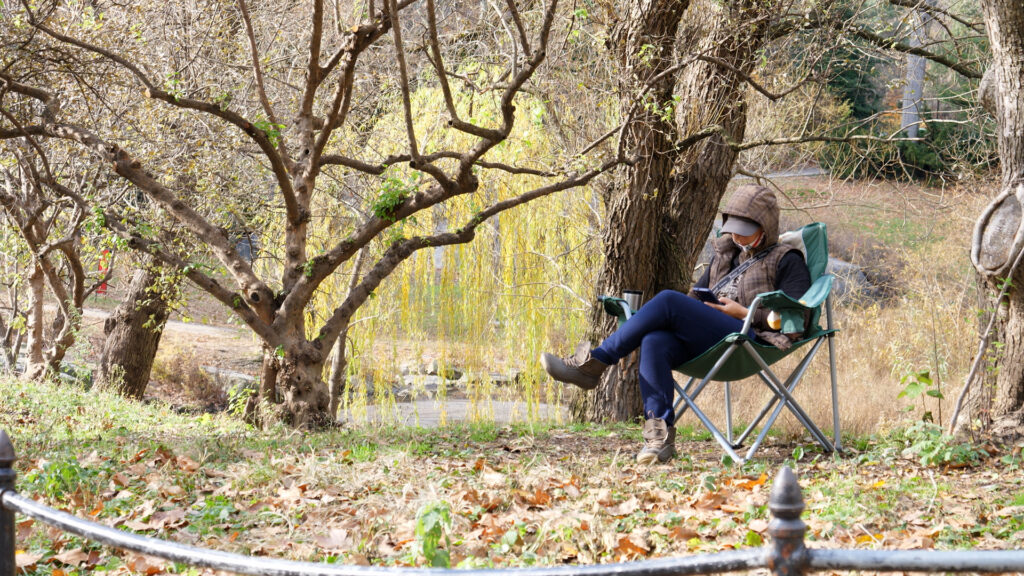 Olivia Nicole runs a private preschool in Park Slope, Brooklyn. Encouraged by the parents' demands to have their kids entertained in a safe way, she decided after summer break to move all activities to Prospect Park. "It's a big shift to teach outdoors in all weather, but the best way to keep everyone safe," she said. "I love teaching outdoors, and the kids are having a blast."
However, it's not as if New Yorkers have many alternatives: most public indoor areas — museums, restaurants and bars — have been closed or forced to operate at a reduced capacity, in a continuing attempt to stop the transmission of the virus.
Even though not everyone is happy about this new, greener alternative, people are trying to adapt. "I started taking outdoor classes at parks because gyms were closed, and classes were only allowed outdoors. I didn't like it, but it was the only option," said Arlynda Lincha, a Bushwick resident who used to exercise in open areas but will go back to gyms as soon as indoor classes are allowed.
In the future, it is unclear whether these new habits will remain. Advocates, though, are hopeful that the rediscovery of parks is a trend that is here to stay.
"I think these last few months have really showed that parks have a special role in our lives," said Walker. "We also know that they are going to play a key role in keeping us safe and sane, and connected to one another in what might be a few really difficult months."
---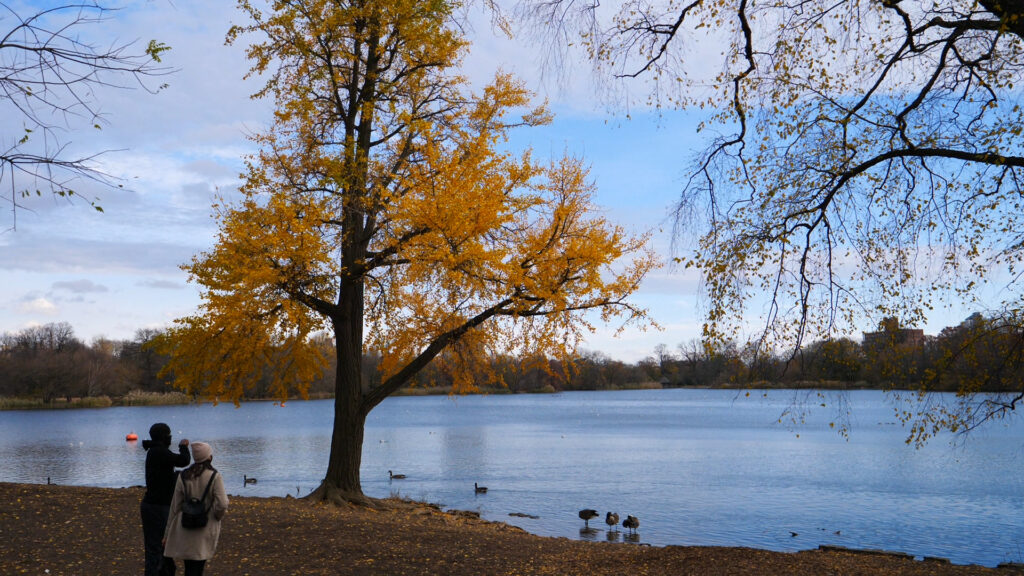 Park System Struggles to Keep Maintenance as the Pandemic Takes Over New York City
By Andrea Acosta
Melissa Briones has been running in Prospect Park occasionally since COVID-19 hit New York in March. She likes the serenity the open space gives her in a crowded city. She usually finds a dirt path and runs through there until she feels like she's too tired to continue.
"Everyone is turning to this green space, but at the same time, you don't want to be near too many people, so you learn to kind of find your ways to keep a quiet corner and make the best of it," said Briones. "I'm very thankful for having a green space, for having trees in a place where I can walk, run, sit, and just sit in silence for a little."
Many New Yorkers feel the same way as Briones. Prospect Park has become a getaway from the harsh reality the city faced in the spring. Musicians have filled the park with jazz concerts. Other activities like workout classes and parties that usually take place indoors have found their way to the park this year.
But this year, an $84 million budget cut, about 14 percent of the New York City Parks Department's total annual budget of $587 million, has meant that the parks are being managed by 45 percent less staff. This has increased the reliance on volunteers to handle tasks they didn't do before.
"The role of the Park Alliance has changed a lot during the pandemic," said John Delgado, the fieldwork supervisor for the Prospect Park Alliance "We've had to definitely shift our focus from doing landscape and horticultural work and focus more on doing basic maintenance… we've also unfortunately had to deal with furloughs and layoffs across all departments in our organization."
Delgado's job is to manage 3,000 volunteers a year in the fieldwork volunteer program. This year, Delgado had to work with fewer volunteers due to COVID-19 restrictions limiting events to 25 people. This also meant that their work has mostly consisted of basic maintenance.
"Due to the layoffs and the hiring freeze on the city, we have had to focus primarily on trash," he said. "For the last three or four months, like 90 percent of our work, are trash pick-ups."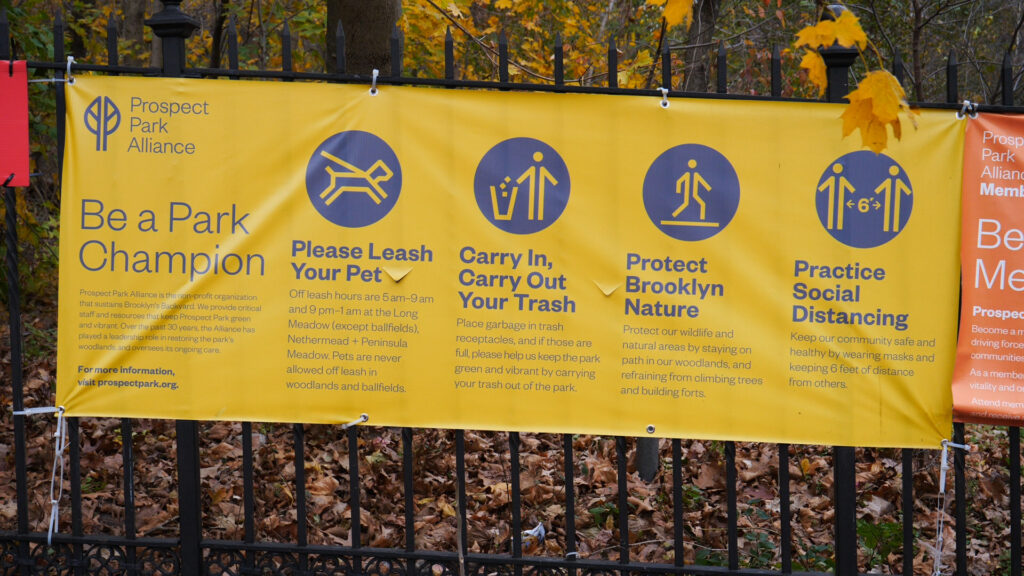 The Prospect Park Alliance is a nonprofit partnered with the Parks Department to support parks. It raises $12 million a year for Prospect Park, around two-thirds of the park's total operating budget. The Alliance also helps maintain the park's 585 acres with around 100-plus workers and volunteers.
According to a report by Parks and Open Space Partners on the impact of COVID-19, organizations like The Prospect Park Alliance expect a decrease in revenue of at least $37 million. This means city parks will lose about 40,000 lost hours of maintenance and 110,000 lost hours of horticultural care citywide. The report also surveyed these nonprofit organizations and found that 90 percent of them believe that the parks, gardens, and open spaces will severely deteriorate as a result of this funding crisis.
The lack of maintenance could lead to trip hazards, broken pathways and staircases, and fallen tree limbs in parks. Additionally, the absence of funding can impact natural areas. New York City forests cover 7,300 acres, already approaching a "tipping point," requiring constant restoration and management.
Parks across the city are also having issues renting out venues that usually support their income. In Prospect Park, places like the Picnic House and the LeFrak Center at Lakeside have remained closed this year, depriving the park of its usual income.
"Parks are viewed as an essential part of the city's recovery from Covid ….We know that our parks are really important drivers of economic stability in the city and their condition reflects that," said Emily Walker, the director of outreach and programs for New Yorkers for Parks, an advocacy organization. "We're not seeing that commitment from our decision-makers to make sure that parks have the staffing and resources they need."
This is not the first time that parks have been used as a place of connection amid a crisis. After the cholera outbreak of 1832, streets were widened and parks were added to cities. Frederick Law Olmsted designed hundreds of open spaces, including Central Park, following New York's second cholera outbreak. After this, Olmsted designed more than 100 public parks and recreation areas in other cities across the country.
This year, several streets have been closed to cars and opened up for the general public. In Prospect Heights, five blocks on Vanderbilt Avenue are closed on weekends so restaurants can expand to the streets. Additionally, the city has developed its bike system, planning to open up 100 miles of its roads to cyclists, with 67 already added.
Park reliance during COVID-19 became a national phenomenon. In Dallas, visitations rose from 30 percent to 75 percent in March. Utah's Zion National Park has seen crowds this year that resembled those of amusement parks. Rocky Mountain National Park and Yellowstone expect this year's total number of visitors to top the 4 million they received in 2019.
The virus is redefining our relationship to natural spaces and how we treat them. Natural spaces like parks provide a place to socialize, exercise, and escape our current reality. However, making sure that we're able to maintain these parks is also crucial.
"It doesn't really matter what zip code you're in, what your income levels are. Parks are one of the most democratic spaces that everyone relies on in the city," said Walker. "It's one thing to build a beautiful park, but if you're not putting in for the long-term maintenance of that space, what does that say to a community?"