The COVID-19 pandemic has brought people out to nature in higher rates than ever before. However as a result, more trash is being left behind and people are more frequently stepping outside of the formal trails, damaging surrounding vegetation. Produced by Julie Levy and Guldana Talgat.
---
New York City Trails are Receiving More Visitors than Usual, But More Guests Also Means Some Unwelcomed Surprises
By Julie Levy
A couple of weeks ago, while walking along a trail in Marine Park in southern Brooklyn, Josh Otero, the trails community engagement coordinator for the Natural Areas Conservancy, stopped and pointed to a triangular patch of wet sand about six feet wide. On top of the wet sand was shabby-looking vegetation. The vegetation was only a couple of feet tall, and most of it was a dark ashy gray color, almost black.
Otero pointed to the wet sand. "This is caused by…want to take a guess?" he asked. Otero pointed to tire marks surrounding the patch. "It's ATV use. The ATV's come and they tear this up in here and it contributes to the puddling, but then it also creates these burns, and that's not great for erosion and long term sustainability of the trail." 
All-terrain vehicle use had crushed the vegetation, causing the area to shrink. "If cutting keeps happening then this small patch of vegetation is gone, and if that's happening here, this is just a microcosm of what happens in the bigger trail network."
Otero is an expert in trail maintenance. Working with the Natural Areas Conservancy, he teaches advanced volunteers how to properly maintain New York City's nature trails, including managing invasive species, remediating erosion-related concerns, removing garbage, and installing and replacing trail blazes. But managing and keeping New York City's natural areas healthy and thriving is only part of what the Natural Areas Conservancy does. The organization also promotes the use of the natural areas, and leads conservation efforts to protect them against the effects of climate change.
Since COVID-19 hit New York City in March, it's been harder for residents to get out of the city, and many have spent more time cooped up at home. Local parks and nature preserves have provided a place to be outdoors while socially distancing and not leaving the city. 
But the popularity of these natural areas has introduced new challenges. While the Natural Areas Conservancy doesn't yet have definitive data to show an increase in trail use volumes, Otero and his team have observed indicators that point to higher usage, such as more litter along the trails and more damage to the trails. 
This is a trend beyond New York City. According to Time Magazine, damage to nature parks has been observed across the nation. A local hiker at the Rocky Mountain National Park in Colorado noted that new visitors are stepping outside the formal trails, endangering the park's plants. A business owner just outside the Grand Canyon said that trash has been accumulating at the park, despite closing off certain entrances. A study of trail use in Pennsylvania during COVID-19 found that trail use was significantly higher in March 2020 in comparison to previous years, with some trails experiencing increases between 100 and 200 percent.
The study cited reports of both positive and negative impacts of higher trail use, as reported by trail managers. One of the most commonly cited positive impacts of increased trail use was an increased awareness and interest in trails by users. The most commonly cited negative impacts were delayed trail maintenance, overuse and overcrowding of the trails, and increased littering. 
As he kept walking on the trail's wet sand, surrounded by tall invasive species vegetation to his left and right, Otero pointed out an informal trail, one of the indicators of overuse and overcrowding of a trail. Much of the soil along the path was bare; it had been stepped on and vegetation along the path had died. 
But now this path had been closed off by Otero and his team to prevent more people from walking on the informal trail. The closing of the path was evident from the pile of natural debris placed about six feet in. 
When closing a path, Otero and his team first remove any trash that has been discarded on the trail. Usually, workers then decompact the soil to allow it to receive seeds. Decompacting the soil is important because when an informal trail is overused, the ground becomes so compacted that vegetation can no longer grow on it, making it impossible for the forest to repair itself. 
In this case, though, the soil was not decompacted because the path was in a wetland buffer zone; the part of the trail Otero stood on was just a couple of hundred feet away from a creek. As a last step, Otero and his team closed the trail by placing invasive species that were collected during removal efforts on top of the path.
The goal is to discourage walkers from using the path, both by physically blocking its access and attempting to "hide it," or make it more invisible to walkers. Over time, the soil will heal and vegetation will reemerge. 
Informal trails are also called desire lines, because even though they are not part of the formal trails network, people desire to use the path. Sometimes it's because the path leads to somewhere they want to go, it's a path they're familiar with, or simply the path has been walked on so much that people think it's a formal trail. 
The reasons for using informal trails may be innocent, but the consequences can be very  damaging. "A lot of these areas are very sensitive and if they're mistreated with an informal trail fragmenting a forest, that's a very hard thing to come back from," said Julia Raskin, the trails program manager at the Natural Areas Conservancy.  "It takes a long time to recover that and to restore that area. It's not an overnight thing, overnight it can be ruined, overnight it can be degraded, but overnight it can't be fixed." 
A study that analyzed the long-term effects of trampling on vegetation found that it took the vegetation 19 to 25 years to recover when trampled 15 times per week for six weeks. 
Since 2017, Natural Areas Conservancy team members and volunteers have been gathering data in an effort to formalize New York City's trail system, in part to address the challenge of informal trail usage. To formalize the trails, Otero and his team of volunteers walk the trails to gather data about where they exist. From the data, Raskin and other team members decide which trails to blaze and add to the NYC Park Department's official hiking maps, but also which trails to close up. So far, the trails team has formalized over 42 miles of New York City's 350 miles of trails across 19 parks.
Despite the increased need for trail maintenance in recent months, the Natural Areas Conservancy has lost staff members due to COVID resource allocation. In 2019, the additional $44 million in funding from the Play Fair Campaign made it possible for the Natural Areas Conservancy trails team to hire two additional team members to help with on-site field work. 
However, due to budget cuts to the New York City Parks Department in 2020, the Play Fair Campaign was only able to secure an additional $10 million for the 2021 fiscal year. This was not enough to continue to fund all workers that were hired in 2019, and the trails team's two new hires were lost. 
"It feels kind of like a double whammy right now with more people using the space and fewer resources to take care of them," Raskin said. 
Covid has also impacted the way that the trails team engages and educates trail users. Prior to the pandemic, the team engaged the public through in-person events like nature walks, forest bathing, birding walks, and other trail events. 
Due to coronavirus, the team has been challenged with engaging with the public virtually through webinars and online trainings on topics including climate change, New York City plants, and trail-specific webinars. While it's not the same as interacting in person, the events have allowed for volunteers and the public to continue to learn about and be involved in trail maintenance.
At the end of the Marine Park trail, Otero faces a spectacular view of Gerritsen Creek. It's quiet, and the blue, orange and pink sunset colors are reflecting onto the water. He's still in Brooklyn, but it feels far away from the tall buildings and the traffic of the city.
With so many people using New York City's nature trails and even more people using the trails in recent months, it's as important as ever to continue to educate New Yorkers about how to use them sustainably. "We're doing our best to let people know. But there's a lot of people in New York and a lot of people that use the trails, so we just continue to do our best in those ways," Otero said.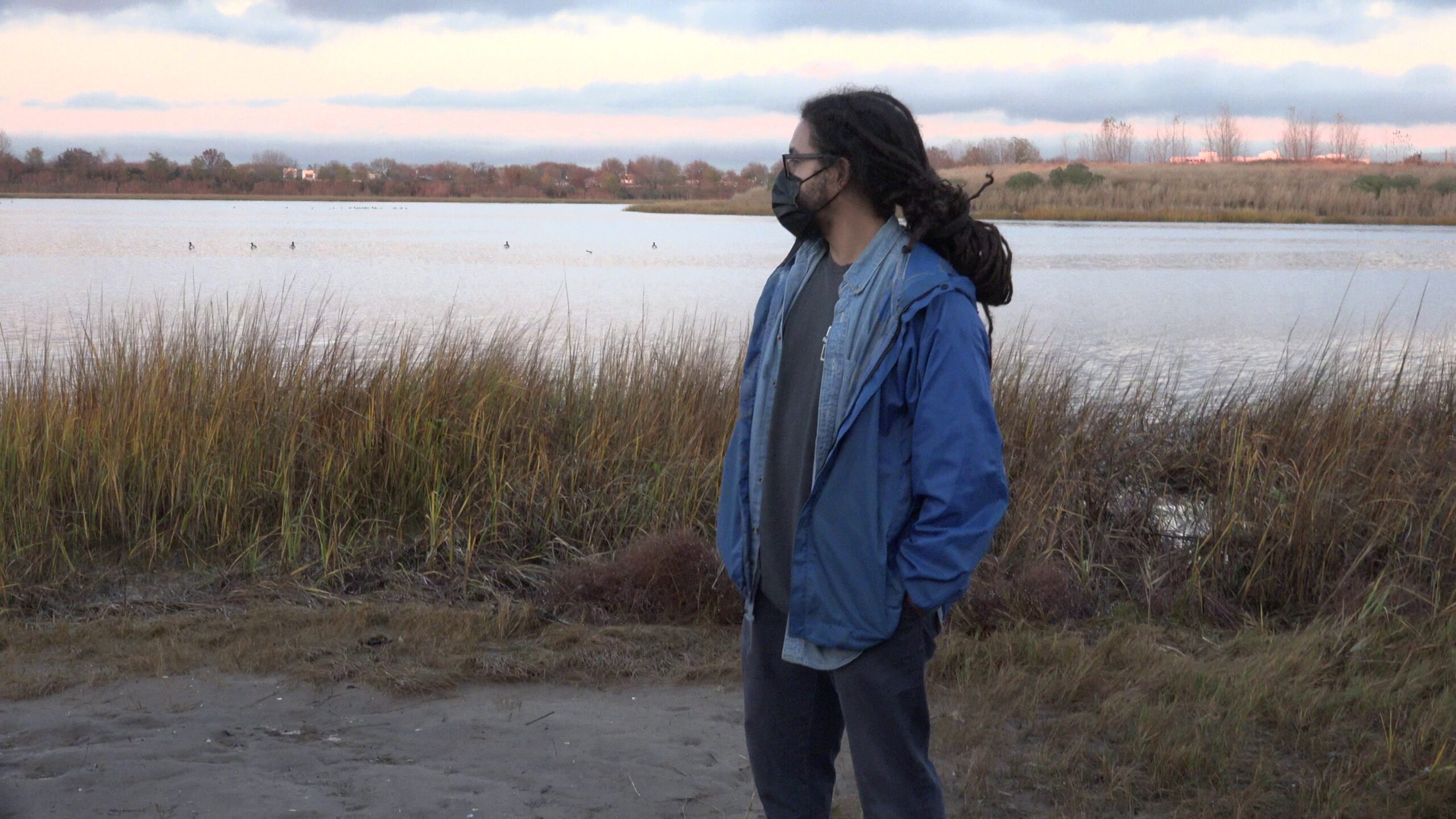 Otero looking out on Gerritsen Creek. Photo by Julie Levy.
Since the Pandemic, New Yorkers Have Become More Involved with Nature, but not without Harmful Ramifications
By Guldana Talgat
While the COVID-19 pandemic has shut down most amusement parks, theatres and places of public entertainment, New Yorkers have been finding refuge in trails and natural parks that are accessible by public transit in the city. After all, who doesn't like running away from the concrete jungle?
And yet, trails are one of the things that most New Yorkers tend to take for granted. Using natural parks and sanctuaries for recreational purposes can adversely impact the environment and the wildlife. 
"We have seen more use of trails in New York City Parks, however, there's also more trash out there since there are more people out. It's definitely presented its own challenges," said Josh Otero, a trails community engagement manager at the Natural Areas Conservancy.
The Natural Areas Conservancy partners with the New York City Parks Department to take care of the city's natural areas. Together they work closely on an initiative called the NYC Parks Super Steward Trail Maintainer program where advanced volunteers learn plant identification, invasive removal practices, corridor pruning techniques, trail maintenance skills and other trail and natural area management practices. 
"People cross the formal lines of trails and leave footprints on sensitive areas. By doing this, they are not allowing the forest to heal and repair itself. More people see those footprints of previous trailers and mistake it as a designated trail area," Otero said. 
"They end up littering their fire pit, beer cans, and other non-biodegradable materials that have a negative impact on the environment." 
Julia Raskin, a trails program manager at Natural Areas Conservancy (NAC), works to conserve and restore the natural ecosystem of New York City and is concerned about the degradation of natural areas. 
"People of New York are partying more out there, leaving trash out there. If these areas are mistreated, you risk damaging the environment. That's a very hard thing to come back from, it takes a long time to recover and to restore that area," said Raskin.
The work Otero and his advanced volunteers have accomplished corresponds directly to the overall formalization and maintenance efforts of the Citywide Trails Team. 
"A lot of time this happens unintentionally, but in the long run, they end up altering the natural course of these trails," he added.
Between March and May 2020, the Natural Areas Conservancy carried out a survey to uncover the impacts of COVID-19 on urban natural areas. They interviewed municipal and nonprofit organizations from 12 cities across the nation. The survey asked them the changes they are seeing in the behavior patterns of trailers, the capacity of their organization to handle these changes, the budgeting issues, staff shortages, and how they are dealing with the new normal. 
The survey suggests that 83 percent of organizations reported an increase in the number of people visiting the parks across the country. But organizations have lost the resources to take care of them. Seventy-two percent of them experienced reduced ability to manage and look after natural areas.There were less plantings and an inability to hire seasonal staff.
The phenomenon of environmental degradation due to human activities on trails is not new. According to the American Hiking Society, unchecked trailing has diminished air quality, degraded water bodies, and reduced active wildlife in the corridors of  trails. 
The crowds rushing towards trails due to the pandemic have only made the situation worse. Many hikers tend to go on overnight trips and camping sites. This activity often involves creating campfires to provide fuel for cooking and keeping warm.
Unfortunately, the wood that the hikers use could strip away the provided important resources for wild animals. Human feces left behind might be detrimental to the health of the soil, which has cascading, adverse effects on the vegetation, disrupting the entire natural food chain.  
Since more people are going to trails and there is a disproportionate allocation of funds towards maintenance, there has been slow yet steady degradation of the environment. 
Otero shared that the NAC has been advocating for funding resources to NYC parks to improve forest management initiatives and framework. 
"Before the pandemic, we were able to succeed in drawing more funding and allocate gardeners to maintain these parks on full-time shifts," he said. "Unfortunately, the two full-time gardeners that we had working laid off. The multi-year funding has been discontinued because the funds are sent towards Covid-related support." 
American Trails surveyed 250 participants to uncover the impacts of COVID on trails. According to the nonprofit, nearly 4,000 events have been canceled, and funds have been cut causing the loss of contracts worth $13.8 million. Additionally, the loss of total volunteer hours has climbed to 380,000.
The Pennsylvania Environmental Council (PEC) released its report suggesting that there was a 60 percent jump in the number of people accessing the trails in March 2020 in comparison to the same month of the previous year. The Lebanon Valley Rail-Trail in Pennsylvania's Lebanon County Pennsylvania is one example. "Every day is like a weekend day now," said John Wenge, the president of the organization. 
Some trails also allow cars, motor bikes and vehicles that use fossil fuels and as a result may affect the natural state of the environment. Crowded trails are not only bad for the environment, but they can be bad for the whole experience of being on a trail.  
"Hiking is a novel pastime during the pandemic for a lot of untrained and inexperienced individuals. These freshers might not be aware of the best practices to ensure personal safety and the sustainability of the environment," said Sumeet Santani, a data analytics professional at Walmart Labs who lives in New York and an occasional hiker.
 Additionally, the trails and natural parks lack adequate infrastructure to manage the surging traffic of hikers. 
"For instance, there are not enough bathrooms in place for hikers which leads some hikers to urinate in the open," said Santani. 
Lack of a clean water supply may lead the visitors to use and dump plastic water bottles in nature. Many open water bodies don't have regulations to keep fishing under control. Unchecked fishing by thousands of visitors could be a growing threat to aquatic life.
Many hikers feed animals on the trail, reinforcing food attraction behavior and leading them to associate food with humans. Some animals may become reliant on food supplied by passing hikers and may show violent behavior towards the ones that don't feed them.
In the United States, there have been several cases of otherwise non-violent animals attacking hikers and in some cases killing them. Moreover, the animals dependent on human-supplied processed food may also show signs of illness when deprived of the same food.
Perhaps one of the biggest problems the virus has brought is budget cuts for trail maintenance. A trails program manager such as Raskin faces consequences. 
"Unfortunately, there's been a lot of budget cuts to all different departments in the City. The NYC Parks Department has really felt it and has had some pretty big budget cuts," said Raskin. 
 As a result, a lot of people have lost their jobs and now there's fewer resources and less people to take care of these natural areas.
"It feels kind of like a double whammy right now with more people using the space and fewer resources to take care of them," Raskin said.