by Whitney Mallett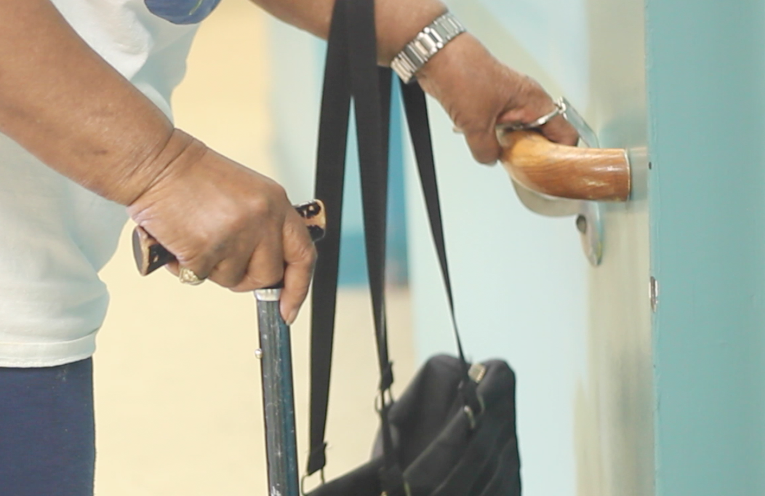 Diabetes caused Dorothy Jacey to have parts of both feet amputated. She found herself in her late eighties having to relearn to walk entirely. "You're like a baby again," says Ms. Jacey, 88, who lives in a low-income senior housing complex in Bedford-Stuyvesant. Years after the surgery, she is starting to be able to put a bit of weight on her feet, but for the most part, she is still wheelchair bound. To go to and from her doctor in downtown Brooklyn, she depends on the white and blue Access-a-Ride vans. "When it's cold and you need them, they don't show," she says. Sometimes they're so late to pick her up she misses her doctors appointments. "I had one that left us," she adds, explaining an Access-a-Ride drove off before she and her home aid made it to the vehicle. "We had to take public transit to my doctor and that is the truth."
Since the Americans with Disabilities Act was signed in 1990, New York City has provided a zero-denial door-to-door shuttle service for eligible registrants. Paratransit, a division of the Metropolitan Transit Authority, runs this Access-a-Ride service. While the eligibility requirements are based on disability and not age, over half of the users are 75 and older. Each year the MTA has more users than the year before. As the boomers age, demand for the service will only grow at a more rapid pace. Already, the program is plagued with inconsistencies and inefficiencies. Even though the Department of Aging has nothing to do with Access-a-Ride, that is where many older users take their gripes. Bringing up the issue with the department's Deputy Commissioner Caryn Resnick elicits an audible groan. "The largest number of complaints that come into my office are about Access-a-Ride," she says.
Ms. Resnick is intimately familiar with Access-a-Ride's shortcomings. Her 82-year-old mother, who is cognitively impaired and travels by wheelchair, uses the service. As her caregiver, Caryn's father Jack Resnick accompanies his wife on the trips. "Sometimes they're perfect, other times they're terrible," he says about Access-a-Ride. He and his wife have been stuck waiting for a ride to come for hours, in the cold at night. In one instance, he called Paratransit dispatch to ask how close the vehicle was. "I was told he was ten minutes away, five minutes away six or seven times," explains Mr. Resnick. "I think the problem stems from that the agency they're hiring is lying to them."
Paratransit contracts out a large part of the service to private transportation firms. Paratransit owns the vehicles but they lease them to these firms, which in turn hire drivers to operate them. Users book their trips by calling Paratransit, and if they have problems on the day of service they again deal directly with Paratransit dispatch. Paratransit dispatch then communicates with the contracted firm's dispatch which in turn communicates with the drivers. It sounds a bit like that parlor game broken telephone.
Mr. Resnick is not the only one who feels that honest or accurate communication is lacking somewhere along the chain. In one instance, Matilda Lloyd waited for Access-a-Ride outside Kings County Hospital. She called Paratransit Dispatch to try to figure out where her ride was. "You want me to be honest, I think they were lying. They said Access-a-Ride came and they didn't come," says Ms. Lloyd, who is 67-year-old and uses a wheelchair. On a few occasions, Dorothy McMeans, 80, has also had rides that fail to arrive. "I've had late and I've had no show," she notes.
A former driver suggests there is some dishonesty involved. "Most of the dispatch, they lie," says Moises Barrientos who worked as an Access-a-Ride driver for five years, and as recently as a month ago. In his own experience, he says he thinks the firm's dispatch must "say the driver is five minutes away, when he's not." He would tell his dispatcher he was running an hour late and then arrive at the client who had been told something else entirely or nothing at all.
With 172,000 registrants and 26,000 trip requests on average each day, it's a logistical nightmare to shuttle them all to-and-fro across the five boroughs. "The schedules are designed to be cost-effective and efficient, but the conditions of the day whether it be weather, detours, calamities, congestion, you name it, those are the biggest challenges," explains Tom Charles, Paratransit Vice-President. Late pick-ups are often due to these conditions outside Paratransit's control.
"That's understandable, but in those situations they should call you," says Doris Williams an Access-a-Ride user and a senior citizen on the Department of Aging's advisory council. Policy is that the user should allow the driver to be half an hour late. "And sometimes it's longer," she notes, adding that some apartment complexes do not have lobbies to wait in and riders have to go outside onto the curb. "A lot of people have to come out and wait when it's cold as hell with these old bones." Ms. Wilson suggests that if the driver knows they are running late, they could notify dispatch which could in turn notify the client, who would be able to wait inside.
Just this Fall, Paratransit has started advanced notification for some users on a trial basis. Park Slope resident Mary Koonce enjoys this new feature. "They call and tell you Access-a-Ride is going to be here in approximately 15 minutes–just about the time I can hobble down from my floor," says the 90-year-old.
But even better than notifying clients when the drivers are late is when dispatch is able to adapt the routes to respond to unforeseeable demands. "The whole idea of dispatching on the day of service is trying to maintain the integrity of the schedule, make proper decisions, that's the most difficult aspect of service delivery," says Charles.
It's for this reason the Paratransit centralizes scheduling even though the driving is contracted out to different carriers. "All of our carriers are connected to the network–to the same scheduling dispatch system software–and our command center located here in our offices is also watching the progress and the monitoring of how the routes are being performed," explains Charles.
Mr. Barrientos's experience, however, suggests that some firms are more willing to be flexible in order to maintain this schedule integrity. "Every company runs the business the way they want," he explains. "This company All Transit, dispatch was good. Sometimes you call them and say, 'Listen, I'm stuck here, I'm never going to make it where I'm going.' They say, 'Okay,' and they give it to somebody who is in the area and they give you somebody that is in the area that you are in." It was different at the contracted firm Mr. Barrientos worked at previously. "The old company would say, 'when you get there, you get there.'"
Access-a-Ride users have noticed what appears to be a lack of communication between carriers. "I've had several occasions when a vehicle comes from a different company to pick someone else up going in the same direction," says Mr. Resnick. "It's duplicity on the part of the city. It's a lot more expensive for the city."
Cost, though, seems to be the major motivation for decentralization. "They give out contracts because they do not want to pay drivers as a city worker," suggests Barrientos.
Bus and train operators, who are part of the Transit Workers Union, make around $30 an hour, plus they receive overtime, insurance, and a pension. According to a policy brief by the Citizen Budget Commission, a non-profit that analyzes government finances and services, bus and train operators make closer to $60 or $70 an hour when these benefits are properly accounted for. Barrientos made a fraction of that—he was making $11.50 and then $14 an hour at the most recent firm he worked for.
"In addition to the cost, it's also the flexibility," says Charles of Paratransit. "Contracting has a benefit to us to allow us to have that flexibility to either increase the fleet rapidly or decrease it."
Right now the cost is a huge strain on Paratransit. Though the fare is only $2.25, the true cost of an average ride is $62. Although there have been efforts to add smaller vehicles to their fleets, it's still a common occurrence that a small diesel-fueled bus that seats five with room for two wheelchairs and equipped with an electronic lift is sent for one rider. It would be cheaper for Paratransit to just cover the cost of a cab.
Since December 2010, a pre-paid debit card has been available for Manhattan registrants who are eligible for Access-a-Ride but would rather take a cab for which Paratransit will pick up the bill. Since June, when 233 accessible cabs were introduced to the borough, this debit-card program can now be used by those in wheelchairs.
"We did an outreach to our wheelchair users about this option," says Charles. Manhattan resident and Access-a-Ride user Mr. Resnick, however, had never heard of this service. "Please let me know if you find out more about it," he urges, noting that it would be a great option for him and his wife. Those interested can contact Paratransit to acquire the pre-paid debit card; to book a cab, they can call 311 or they can call the Accessible Dispatch center directly at 646-599-9999. Like a normal taxi, one can book a ride in advance or call when they need a ride. Wait times vary, but users can expect to wait up to an hour.
In all boroughs, there is another option for Access-a-Ride users who don't need a wheelchair-friendly vehicle. Paratransit has contracts with two car services. When calling into Paratransit to make a reservation, users can request this voucher authorization option. They are given two numbers of car services Paratransit has under contract, who they can call to make their appointment. The car service then calls the Paratransit command center for confirmation. At the time of the trip, the rider only pays the car service $2.25 and the car service bills Paratransit the difference.
Some are interested in this service, but have faced problems accessing it through Paratransit dispatch. "You know to take a taxi, I called yesterday to get the voucher and they told me they didn't have it," says Donnamaria James, who is 69 and has a heart condition.
Voucher authorization should not be confused with the reimbursement program Access-a-Ride offers. When a ride is more than a half hour late, a user can call into Paratransit and request an authorization code, then they call a taxi, save the receipt, and then mail it in with their code to request reimbursement. Charles of Paratransit describes this process as "cumbersome" and notes that only about 60 percent of those that request the code actually go through with the reimbursement.
Until accessible cabs are made available in other boroughs, these alternatives restrict anyone outside Manhattan who needs a wheelchair-friendly vehicle. It's unclear if the pre-paid debit card will be made available in other boroughs. "I can't comment about the outer boroughs until something actually happens," says Charles.
Related Stories:
Growing Old, but Staying Mobile
A Win-Win Technology Class for Multigenerations