by Dezelle Bennett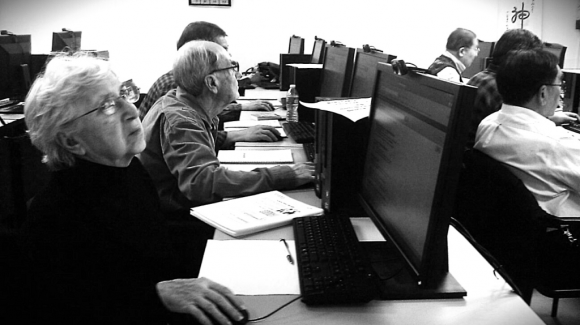 "If you ask a 60-year-old, they're not going to tell you they're a senior because they do not want to be correlated with the word," said Elvira Yanes, the Program Director at Encore Community Services located on West 49th street in Times Square
But, the Baby Boomers and their successors will be joining their predecessors, who sat and watched society evolve rapidly around them technologically, politically, socially, and economically,
With the younger-older generation amassing 25 percent of the United States population and nearly 40 percent of all U.S. consumer spending, this trend that could either make or break the economy dependent upon the strategies, or lack there of to prepare for such changes.  As the Boomers leave the work force so does the experience and insight they have brought to companies.
"If you look at the demographics, it would be a huge crisis if all the baby boomers were to retire at one time because you not only lose a lot of people in that generation, but a lot of experience" stated Project Director Joe Dirac who has been with Association of American Retired Persons (AARP) Foundation WorkSearch for nearly 20 years.
But let's face it. Just because one has reached the age of retirement does not mean he or she will retire or even have the means monetarily to do so. According to a recent AARP report, nearly three in five older persons said they were less confident of having enough money for a comfortable retirement since the recession started and one-third don't expect to ever fully retire.
In the 2005 report "Preparing for an Aging Workforce: A Focus on New York Employers" the AARP found:
Sixty-five percent of businesses say it is extremely or very important to retain institutional knowledge that might be lost when employees retire or leave, but only 25 percent of businesses have a formal process that enables employees who retire or leave to share the knowledge they have obtained on the job.                                                                      
Six in 10 employers believe their business is likely to face a shortage of qualified workers within the next five years, however only 16 percent have taken steps to prepare for the possibility of boomers retiring at the traditional age.                  
Most of the qualities that older workers already possess are the top qualities that the surveyed New York businesses believe employees should have to meet the needs and culture of their organizations.
The top five qualities include: commitment to quality work, loyalty to the company, gets along well with others, able to be relied on during crisis, and is flexible. While the top qualities found in older workers also include the former three as well as a reliable performance, and basic skills in reading, writing, and arithmetic.
These are skills found not just among the Baby Boomers starting to think about retirement but retirees, who are now finding themselves attractive to employers who also have a strain on their spending due to the weak economy.
"There are a lot of people that are going back to work because they have to. Most of them outlive their source of livelihood; there's not enough social security in some cases, their pension is not what they thought it would be, or they didn't even have one," said Dirac.
"Housing and rent has changed drastically," said native New Yorker Virginia Willis, 76. "It's hard to cope with the rising rents. People like myself look for senior housing that goes according to your income, which makes it a little easier, but you have to accept the changes in life whether its financial, mental, physical, or whatever."
Project FIND, which stands for Friendless, Isolated, Needy, and Disabled, is a non-profit whose mission is to provide low- to moderate-income and homeless seniors with the services and support they need to enrich their lives and live independently. Executive Director David Gillcrist sees the program as a verb–helping people find homes and economic assistance that they need.
"Seniors are going to be looking for centers to provide a wider array of programs," he said.  "There are a lot of problems about housing and confusion with bills and rent regulations. Consequently, several of our residents who are active and feel healthy are going back to work."
Funded by Title V of the Older Americans Act, as well as state and local grants to help low-income individuals, congress established the Senior Community Service Employment Program (SCSEP). SCSEP is specifically designed to help older adults who are reinventing themselves and returning to the workforce by placing them in community service assignments, so that they get current references and experience that can be translated into a real job
"We currently have two students in the program.  They try to learn the new skills of this era–computer skills and all that fancy stuff—that they didn't do back then, are helped to find a job, which then helps them to supplement their rent," said Yanes.
As older people try to up their game to reach the bar that has risen and younger-old people try to stay in it, the competition for the youngest generations will still be quite stiff. But it is likely a top heavy population will also create more jobs.
There are 78 million baby boomers in the country, which means at some point there will be an exponential increased need for home-health aids, centers and housing, new medical in-home technology because many shun the idea of going into a home or living their last days in a hospital bed.
In Another 20 to 40 years, the Baby Boomers and their successors' numbers will be through the roof in the U.S.; however, they are not alone–other countries including Germany, Italy, and Japan have been experiencing a top-heavy population, and have since adjusted the way their market operates.
Japan specifically, a country who is known to be one of the most tech savvy of the world has a line of products and services catering to the old from robots than can fetch and carry items for the elderly and disabled to Aeon, a company who's name means "an immeasurably long period of time" opening its first supermarket aimed specifically at older customers with a range of products and services, a medical center, and shopping carts with magnifying glasses on them.
During an address at the 2010 King's Fund Annual Conference in the United Kingdom on Health Care and the Big Society, Lynne Berry the past chief executive of Women's Royal Voluntary Service stated that "organizations have put huge amounts of effort to understand outcomes and framing activities that we create into a source of products that can then be demonstrated to achieve impacts and be shown to have monetary and social values."
People will age differently and have different needs.  Now is the time to look into what can be done politically, socially, and economically to make sure the older people are not only taken care of, but also utilized.
"The Baby Boomer generation" said Berry is the best educated, healthiest, and fittest group of younger-older people ever seen. All these people are now coming up to 65 and the question is, how are we going to make sure that they use their skills in their communities?"
Related Stories:
Un-Retired and Returning to the Workforce
Older New Yorkers Learning Technologies for a Thriving Multigenerational Relationship