Seeds of Change: Building Community Around Compost Bins in the Bronx
Fahad Naveed
On a chilly November morning, upon arriving at the address of the Kelly Street Garden I encountered an apartment building instead. The community garden is actually tucked away in the backyard. "It's back there," Bruce Zeines, the initiative's assistant manager helpfully directed me.
As I stepped down to the backyard, I was welcomed by lush green raised beds, and peculiar looking scarecrows. On one end of the garden was a mural depicting a young African-American girl smiling bright; on the other side two composting bins stood tall. These bins are used not only by the community gardeners, but are accessible to anyone who wants to drop off food scraps here.
Before the city started rolling out brown bins to collect food scraps, much of the composting happened in community gardens such as this. Even today some of the most passionate composters tend to be community gardeners.
"I hope you don't mind if I walk through the garden and do some work while we're talking?" asked Sheryll Durrant, as she put on a pair of gloves. Durrant is the Bronx-based garden's manager. (Zeines is her husband). With this being the last day for the season before the New York City winter picked up pace, she had no time to waste.
There's just something about touching soil that feeds your soul.
"I've always been interested in compost because I believe that in order to grow healthy crops, soil health is very important," she said.
"The history of soil in New York is one of toxicity," she said. "Whenever a community garden or urban farm is established, the first thing that they take care of is their soil health." Kelly Street Garden uses compost as their main soil amendment.
Like Durrant, Joe Guimento, who manages another Bronx-based community garden, River Garden, talked about soil with unmistakable passion: "There's just something about touching soil that feeds your soul."
Guimento has been a community gardener since 1989. "I had my first garden plot before I had my first apartment," the Bronx resident said. Like many community gardeners, he has also been composting for most of his life. He was proudly wearing a brown NYC Compost Project beanie when he met me.
Recently, River Garden's compost bin received an upgrade. The garden now has a four bin compost system that was built by Guimento and a group of high school students as part of the city's Youth Leadership Council Program. "For the first time these kids used power tools, and we built this within one day," Guimento said, standing in front of the wooden compost system that has been signed by some of the students.
Kelly Street and River Garden are two of a growing number of Bronx-based gardens that are composting. Today, as many as 53 community gardens in the borough are actively composting, estimated Kathy Vazquez, the NYC Compost Project's project coordinator.
Vazquez's job is to support these urban farmers and composters. "We go out and help give New Yorkers the knowledge, skills and opportunities they need to make and use compost locally," she said.
Like Durrant and Guimento, Vazquez is also a community gardener. The three have another thing in common: they are all "Master Composters." The title is given to people who graduate from the 8 to 12-week-long NYC Compost Project Master Composter Certificate program. Indeed, many community gardeners tend to be Master Composters.
I lift my hat to every community gardener out there that has been doing this for free.
To Vazquez an important aspect of the course is learning how to build a community around compost bins. With people working on their own plots, "community gardening itself can be a relatively independent task," she believes. "But since normally folks have only one bin in their garden, they actually are composting together. They have to figure out what to do together in that space," she said.
But to Durrant the challenges to the spread of community gardening, and therefore composting, run deeper.
Durrant, who is also a food justice advocate, finds that there is a "stigma" attached to community gardening for people of color. "Let's face it, a lot of community gardens rely on volunteer labor — free labor," she said. "You didn't pay African Americans … they were stolen from their land and forced to work for the white ownership class for free… And now we talk about community gardens, and we expect people to be a community and give their labor for free."
This can be a real barrier in the Bronx, where nearly 43 percent of the population is Black or African American, according to a 2013 Census Bureau estimate.
"I lift my hat to every community gardener out there that has been doing this for free," Durrant said.
Then why do Durrant and her husband Zeines continue to do this? Zeines considers the project a "spiritual intermediary." "It's not always about economics," he said. "You're trying to heal a community."
After the Brown Bins Came
Emily Cameron
Tucked beneath a potted plant, Rebecca Louie conceals a black, plastic bin filled with worms. She's hidden wilted salad greens under layers of soil in her window boxes and keeps a fermentation bucket under her kitchen sink packed full with leftovers a little too old to eat. Louie, author of "Compost City: Practical Composting Know-How for Small Space Living," wasn't always so green. In her previous life, she worked as an entertainment reporter until quitting her job seven years ago, and then began working on a Master Composter certificate through the NYC Compost Project.  
"It changed my life," Louie said. "I started to think about my waste stream differently. I discovered as an individual in this city that there was a lot I could do to make a difference."
When Louie started composting there were few citywide compost options for the stalwart urban composter. Food scraps could be dropped off at a handful of community gardens, GrowNYC was just beginning to sponsor compost drop-off sites at greenmarkets, or scraps could be composted at home. In 2013, that all began to change when Local Law 77 passed the New York City Council and called for a pilot program to test the effectiveness of curbside collection and processing of organic waste. Now, the Department of Sanitation (DSNY) collects curbside organic waste through their brown bin program, the contents of which make their way to transfer stations and are ultimately transported and processed by private haulers.
We're still in the very early stages of identifying organics in the waste stream.
Though brown bins have made composting more accessible, DSNY found that in fiscal year 2017 New York City residents threw away almost 10,000 tons of garbage daily, relative to the 81 tons of organics that were composted. A 2013 study from DSNY suggested that 31 percent of the NYC waste stream is actually compostable. But according to the current numbers, less than one percent of the waste being produced each day is actually being composted.  
"We're still in the very early stages of identifying organics in the waste stream," said Andrew Hoyles, senior manager for organics outreach at DSNY.  "There's not 8.5 million people participating in the program yet. We believe we've provided service to 3.3 million people at this point, but they are not all participating [100 percent]."
Curbside composting isn't yet available to all New Yorkers including those living in Louie's neighborhood, Elmhurst, Queens. On her own, Louie developed methods to break down almost every aspect of her own personal waste stream: fruit and vegetables scraps are fed to her worms, a fermentation method called bokashi breaks down her meat and dairy, she buries what the worms don't eat in window boxes, and built a digester in her backyard to tackle the rest of her waste — including her dog's poop. But by 2018 every neighborhood in the city, including Elmhurst, should finally receive their own brown organics bins from DSNY, which Louie admits may change her daily composting routine. "It will be a great relief to me," she said. "That will alleviate some of the practices I've set up in my own life: the bokashi buckets and the window boxes. The reason I have all these systems in my house is because it keeps up with my waste stream here."
With the increased convenience of residential organics pickups, whether New Yorkers will hang on to their worm bins or continue to make the trek to local compost drop-off sites is still unclear.  Very few community gardens and at-home composters weigh the volume of food scraps they compost, so it can be difficult to gauge the volume of organics processed locally.  But according to the 2017 DSNY Annual Report, the NYC Compost Project partnered with GrowNYC drop-off locations collected more than 1,500 tons of food waste, the remaining food scraps collected by DSNY, just over 25,000 tons this year, were sent to private waste haulers.
The city currently has contracts with six waste haulers to process the organics collected curbside. WeCare operates the DSNY compost site at Fresh Kills in Staten Island, and Waste Management produces the slurry that powers Green Point's Newtown Creek anaerobic digester. But a majority of food scraps leave the city for processing — traveling to sites like McEnroe Organic Farm in the Hudson Valley, and New Milford Farms in Connecticut, both require trucking the food waste nearly 100 miles.
Composting locally reduces the distance food waste must travel as well as the cost. Haulers pay a "tipping fee" to organics processing sites, though that fee is lower than the tipping fee paid to landfills. New Milford Farms had been accepting municipal food scraps until May of this year at a fee of $68/ton, whereas the average fee for landfill facilities in the Northeast is just under $80/ton. But without concrete numbers on the volume of food waste collected and processed locally, it's tough to gauge just how much of an impact local composting initiatives can have.
Rick Carr, compost production specialist and vermiculture expert at the Rodale Institute, sees vermiculture and "apartment composting" as teaching tools rather than a way of life. "I would say that it doesn't have value in the waste stream, in creating any significant ripple in the waste stream," he said.  "The value is for the person doing it: it's education, it's fun, for community gardeners that's where the true value is."
In the current brown bin model, buildings with more than 10 units are not automatically enrolled into the program as smaller buildings are, a landlord or superintendent must voluntarily enroll in the program — something relatively few large buildings have done.
Wardell Mills maintains several buildings in Clinton Hill and Bed-Stuy, Brooklyn. Despite being provided with brown bins, "I don't use them, because I'm not going to clean them," he said. "People use them improperly, so I told the landlord, and he said to just put them in the basement."
We should all have worms.
Marissa Ringel lives in a 70-story, high-rise in Riverdale, Bronx. The bins haven't arrived in the neighborhood yet, but she'd be surprised if her building were to enroll, because of resistance from the board of directors. Alternative composting models have allowed Ringel to participate even without the cooperation of a building. Ringel, a part-time New York resident and part-time resident of Nova Scotia, makes an effort to minimize the waste she creates. Relative to Nova Scotia, where disposing of compostable materials was banned in 1998, "we have a lot of catching up to do," she said. After completing her Master Composter certificate two and a half years ago, Ringel went home with seven worms and plans to compost her own food scraps. Now those seven worms have become hundreds, and they do a pretty good job of keeping up with all of her waste in the kitchen.  "It's like the old adage: first people laugh, and then they get really upset, and then they accept whatever you're trying to explain to them as truth," she said. "I think we're at a time now where people are like, 'What? Worms! That's crazy,' and then after a bit, they're going to be like, 'You know what, that is the way forward. We should all have worms.'"
New York City's urban composting landscape is, in many ways, as diverse as the residents it serves. Rather than municipal composting initiatives threatening existing community composting, DSNY's Hoyles sees the curbside pickups as contributing to a "three-pronged" approach to eliminate biodegradable materials from the waste stream. "There's still plenty of material in the waste stream that can be collected both from the community based drop off, the community garden itself, and at the curb," he said. "All that material, any way of diverting it, is part of the goal at this point for the agency. Success is still a while away, but getting the program fully citywide will feel like a success in itself."
Brooklyn Rides a New Wave of Urban Composting
Rebecca Blandón
In Bushwick, Little Skips cafe owner, Linda Thach is reluctant to trust haulers with her recyclables and compostables.
"A lot of garbage removal companies don't actually recycle and I noticed this because they make us separate everything, but then they throw everything in the back of the truck and squash it. So what's the point of separating it if they're going to throw it all in the same truck and mash it up together?" asked Thach.
New York City's history of untrustworthy private haulers is just one of many obstacles making it difficult for small business owners to join the city's composting movement.
Owner and chef of Williamsburg restaurant Samesa, Eli Sussman also suspects that private haulers are not properly recycling materials, which led him to seek out BK Rot, a micro-hauler that collects organic waste from 15 small businesses in Northern Brooklyn.
"BK Rot was just a natural choice [for us] because they're transparent," said Sussman. "They show up on a bike and they promise to take it to Know Waste Lands," he says referring to their local composting site.  
Despite the city's residential organic curbside collection in much of Brooklyn and across the city, the Department of Sanitation has yet to enforce organic waste pickup for small businesses citywide.
Small business owners argue that the city does not make it easy for them to compost even modest amounts of food scraps, which has caused environmentally conscious owners to place the composting burden on independent non-profit organizations like BK Rot.
After moving his catering business, Squaremeals, to a smaller space in the heart of Bushwick, Nicholas Rubino struggled to find haulers that would pick up less than 50 pounds of organic waste per week. "I had no place to put my compost because I didn't know of any commercial haulers that were taking such little compost every week," said Rubino. "I would take mine every week to my friend's house and we would take it up three flights of stairs to the roof. Now BK Rot takes it, which saves me a lot of steps."
BK Rot's bikers haul up to 300 pounds of food scraps from local businesses per trip, yielding roughly 15,000 pounds of compost a month. Their service, although local, is one solution for small businesses struggling to compost and recycle with few options offered by the city.
I had no place to put my compost because I didn't know of any commercial haulers that were taking such little compost every week.
There is only one communal food scraps drop-off site (located in Irving Park) for all of Bushwick and none in Williamsburg proper, making it inconvenient for folks in Northern Brooklyn to haul their own scraps. Composting on-site is also possible, but unrealistic for most urban businesses that don't have a backyard or rooftop garden.
Rubino pays BK Rot roughly $1,000 upfront each year for their composting services. It costs $20 a pickup and a business, cafe or restaurant may have several pickups a week. For these entrepreneurs, composting is only the bare minimum when it comes to running a sustainable food business. Buying organic, recycling and using reusable packaging are other ways to practice eco-friendly methods.The kitchen is where the cycle begins and ends, Rubino argued. Where food is plated and dished, and where the presence of compost bins signals responsibility. "The kitchen is where you take what some perceive as waste and you use it," said Rubino.
The kitchen is also where Rubino hosts a food co-op service, Community Support Agriculture (CSA), every Wednesday, connecting people with local farmers who sell produce in bulk at an affordable price and encouraging folks to cook with the best ingredients the season has to offer.
Sussman agrees. "It shouldn't just be fine dine restaurants that are paying such close attention to compost and the environment, and having relationships with farmers," he says. "It should be someone who makes a burrito and makes a shawarma sandwich and sells mostly food to go," he said.
Finding ways to assure that takeout, including food and packaging, is composted and recycled is a challenge for many restaurants. Naama Tamir, co-founder and manager operator at Lighthouse, one of the larger restaurants that BK Rot services in Williamsburg, is working with DSNY to brainstorm reusable takeout containers she hopes to implement in restaurants like hers.
How nonsensical is it that we're essentially poisoning our soil, our air, our water and just maybe wake up one day and think, What are we doing? This [world] is ours.
Tamir has always worked with local organizations aimed at reducing waste, like Neighbors Allied for Good Growth (NAAG), founded in 1994 by Brooklynites known for successfully shutting down an unregulated waste transfer station. It was through them that Tamir started composting and later learned about BK Rot this past August. A large amount of BK Rot's compost material is sourced from Lighthouse with bikers picking up food scraps about three times a week.
Tamir has also worked with Sure We Can to recycle her cans and bottles and the Billion Oyster Project (BOP) to recycle her oyster shells. BOP's Shell Collection Program sources shells from restaurants in New York City and takes them to the NRG Arthur Kill Generating Station in Staten Island where they are cleansed and cured for a year before being placed back into the New York Harbor to serve their own duty by cleaning the water. Each shell spawns roughly 20 new oysters and each oyster can filter up to 1.3 gallons of water an hour.
"The natural world is a model we can take inspiration from," said Tamir in reference to the oysters. "We opened in 2011 with the goal of redefining what it means to be a sustainable restaurant in an urban environment. We wanted to use some techniques of biomimicry because we didn't like the wastefulness and the disrespect to the planet," she said.
Growing up in Israel, Tamir and her brother were largely influenced by their memories of picking mushrooms and wild asparagus with their parents. "How nonsensical is it that we're essentially poisoning our soil, our air, our water and just maybe wake up one day and think, what are we doing? This [world] is ours," she posed.  
Dreaming big for New York City, she hopes that one day the city's waste management system will employ renewable energy trucks to pick up garbage based on each person's schedule, leaving no garbage bag behind.
That seems surreal for a city whose commercial recycling rate is merely 22 percent according to a report by Transform Don't Trash NYC, a coalition working to improve the city's waste industry. New York trails behind cities like Seattle, where businesses recycle at a rate of 62 percent.
Although DSNY is developing a new zoning system to start in 2022 that will require commercial trash haulers to meet waste reduction quotas, there is little immediate action, like fines (if they're caught), holding trash haulers accountable. The new policy will create "zones to be served by specific private sanitation companies, reducing truck traffic and allowing the city to hold companies to strict standards for vehicle emissions, environmental justice, labor practices, and recycling," according to Transform Don't Trash NYC.
A clean conscious is a large motivator for chefs and business owners supporting BK Rot. The discussion on sustainability in the city shouldn't be limited to clean eating and local sourcing. Transforming waste into a useful product, like compost, in order to reinvest it in the neighborhood's infrastructure and the landscape is essential to closing the loop.
Living 100 percent clean and zero-waste is difficult though. Despite BK Rot's efforts, there are still some ingredients, like poultry and dairy that won't make it to the compost bin.
"We don't have a non-traditional trash strategy for our meat, cheese and eggs [at Samesa]," said Sussman. "BK Rot takes shells but they don't take yoke. What we try to do is not waste anything, so the bones get roasted and if we can't turn it into soup or a family meal, then it goes in the trash."
Sussman, who would like to see New York City establish some kind of green certification for restaurants practicing well-measured sustainability, recently received a grant from the state to participate in a study that will audit Samesa, assess its impact on the environment, and advise on how they can become even more earth-friendly.  
"Our trash is pretty low here and our compost has been a sort of learning curve," said Sussman. "It's weird to have three trash cans in a restaurant, but at the end of the day it cuts down on waste and makes people more responsible in the kitchen and it's good from a cost perspective as well. It makes us feel good that we're composting because we're not throwing big trash bags out every night."
How One Tech Company Grew a New Composting Strategy
Nicholas Perrone
Trevor Dickson rolled up to the Cadman Plaza Park in Brooklyn during his lunch break. He was wearing a Carhartt Jacket with a green plaid shirt and a hat whose brim flapped in front of his eyes.
"Imagine me trying to get uphill in this thing with like bags up to like here," he said gesturing two feet above his bicycle's large empty box compartment. The now under-utilized cargo bicycle, named Betsy, represented his personal culmination of composting at his employer Etsy, an online marketplace for vintage and handmade goods.
However, over the past couple of years, racked with cultural, business, and managerial changes, Etsy, which has boasted $2.84 billion in gross merchandise sales in 2016, has scaled down their employees' involvement in the composting process, eliminating their composting bicycle program and attempting to make the program more efficient and economically feasible by outsourcing their waste transportation to a private carter.
Composting became a part of our everyday operation; it was required for everyone.
In New York City, private carting companies collect more than 3 million tons of waste and recyclables per year from businesses, according to a study done by the New York City Department of Sanitation (DSNY) and the Business Integrity Commission. As of 2016 many commercial businesses are required by law to either transport organic waste themselves, process their own organic waste, or hire a private carter. Etsy, who was previously transporting organic waste themselves by bicycle before the law was passed, is following suit with many other companies who are investing in private carters. With organic waste accounting for about one-third of waste generated by New York City businesses, growing companies like Etsy, which increased its employee count to almost 800 people in 2017 up from around 300 people in 2012, need to find newer and more innovative ways of making organic waste management feasible.
Composting has always been an important part of Etsy's identity, beyond the banality of environmental sustainability. In 2012, the company became a certified b-corporation and took on the global business movement that exemplified their commitment to solving social and environmental issues.
"Composting became a part of our everyday operation, it was required for everyone," said Dickson, who works as the space management specialist at Etsy. "We used sugar cane plates for our meals, which were catered twice a week, and we needed to rip them into quarters after we were done eating, everyone's hands were getting a little slimy. Some people were stoked that we were composting, others were going to their next meeting being like, why do I have to do this?"
Now it's super efficient, but it's almost like out of sight out of mind.
In 2010, the company partnered with Added Value Farm in Red Hook, Brooklyn, a local three-acre production and compost site. Volunteers from Etsy would go to the site weekly, biking organic waste to the farm for composting and building windrows for processing, all under the guise of the company's commitment to composting and environmental sustainability.
"That was sort of like, in my mind, the golden era of composting at Etsy," said Dickson. "It was the most manual that it possibly could be, with tearing the plates, making sure the right things went into the receptacles, biking it out there, getting our hands dirty, but it was also just really fun and educational. I feel like people were just much more aware of the composting process back then. Now it's super efficient, but it's almost like out of sight out of mind."
During this time, volunteer employees were actively involved in the composting process and dedicated both work and break time to make trips to the farm with organic waste. Jakob Von Eichel, the former office ecologist at Etsy, and the pioneer of the interactive volunteer composting program at the company felt that the company needed to take a stand on sustainability. With the support of former Etsy CEO Chad Dickerson, who was replaced in 2017 after the company board saw profits waning, Von Eichel put the volunteer composting program into effect.
It wasn't very efficient, but it was fun and engaging and people got to go and see how composting really works, hopefully sparking more interest in further pursuing it on their own.
"It felt great to start this program," said Von Eichel. "It was definitely something personal I wanted done. Some of my duties as a member of the facilities team were pretty boring and janitorial, so to shift that to something more interesting and that I believed in felt good."
Although he understands the company's wish to shift away from his old composting procedures and invest in a private carter, Von Eichel, who left Etsy in 2012 to pursue acting, is disappointed that the company is reevaluating his composting program.
"I can understand logically why they have shifted to having an outside service ship it Upstate, but it does make me sad," he said. "Firstly, it adds an unnecessary carbon footprint to the process and secondly there is a lot to be said for the educational side of how I did it. It wasn't very efficient, but it was fun and engaging and people got to go and see how composting really works, hopefully sparking more interest in further pursuing it on their own."
Although biking organic waste at Etsy did not emit a carbon footprint, one of the contributing factors to climate change, the New York City Department of Transportation expects a 64 percent reduction in carbon dioxide emissions by private carters in 2020, according to an air quality study done by DSNY and Paul Carpenter Associates, Inc.
Etsy currently separates out their organic waste so that it can be collected by their private carter, Royal Waste Services. Once sorted at their facilities in Queens, Royal Waste transports their food scraps to the McEnroe Organic Farm in Millerton, New York, 100 miles away from New York City.
Adam Halvorsen, who has been working at Etsy for just over a year as the food and administrative services manager, is certain that the new system is actively working towards the company's eventual goal of becoming a zero-waste facility.
"I had no experience with the old system, but my perception is that the new one is significantly more efficient and easier to support as a business case," said Halvorsen. "It's not feasible or a great use of skilled labor to transport our compost by bicycle anymore."
Towards the end I was cycling out maybe a couple hundred pounds of compost a week in the little cargo bike that we have and it was getting to be too heavy to bike up the hill anymore.
Going public in April of 2015, Etsy saw increased growth in all sectors, including organic waste. According to Dickson, the amount of compost became too much for volunteers to handle. Just over these last months in 2017, Etsy has been producing anywhere from 600-800 pounds of organic waste per month, according to Dickson.
"Towards the end I was cycling out maybe a couple hundred pounds of compost a week in the little cargo bike that we have and it was getting to be too heavy to bike up the hill anymore, so that was a sign that maybe it was the end of this operation that we had going," he said.
During the five years of Etsy's volunteer compost biking program, employees were able to bike out a total of about 30,000 pounds of compost, according to Dickson. The company is able to track how much organic waste they produce thanks to "office hackers," a group of employees who work to boost the efficiency and usability of the Etsy office.
"Our office hackers developed a system called 'divertsy'" said Dickson. "Essentially that's an electronic way of recording and tracking all our waste streams. Each office has a local system for weighing and measuring and then that's uploaded electronically to our shared database, and we can go in at anytime and look at the month for each office."
Although the new composting system is innovative and efficient, some former employees still revel in the memories of the old compost system.
Charlotte Smail, who worked at Etsy for four years as a senior software engineer, was one of the employees involved in the old system, often biking to the farm in Red Hook around lunchtime to drop off compost.
"It was great fun!" exclaimed Smail. "We would go for the morning, and it was really nice to feel like it was acceptable to spend a work morning getting out into the community."
Recently, Etsy has decided to no longer pursue their b-corporation certification, but convey that they are still committed to environmental sustainability, investing in new strategies to eventually become a zero-waste facility. Etsy is currently diverting 88 percent of their waste from the landfill, up from 84 percent the previous year, according to Dickson. There goal is to reach 90 percent landfill diversion by 2020.
Although the old system of composting was fun and educational, Dickson reaffirms that the new system is still helping the company move towards furthering sustainability every year.
"It's more efficient, it's more economical," he said, "and we're composting more than we ever have before."
Staten Island Church Encourages Composting and Gardening
Henry Ogunjimi
"We ask members of the community, bring us your scraps, and we will compost for you. And then we invite them back to reap the benefits, to come get some vegetables," Reverend Melodee Bottari said, of the Olivet Presbyterian Church.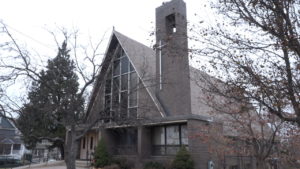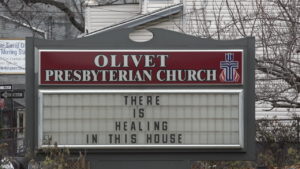 Olivet Presbyterian Church, West Brighton, Staten Island
Rev. Bottari is in her eighth year as the pastor of the church located on the corner of Broadway and Myrtle Avenue in Staten Island's West Brighton district.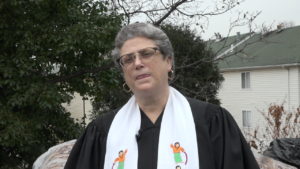 Reverend Melodee Bottari, Pastor of Olivet Presbyterian Church, Staten Island 
Three years after she arrived at the church, Hurricane Sandy struck Staten Island. Residents of West Brighton district managed to clean up the debris the storm left behind, but Rev. Bottari says they have not yet changed the "food desert" status of the neighborhood that resulted from the storm.
"There is no supermarket within walking distance for our elderly, our handicapped, a lot of people living on the margins, very low-income people living either at or below poverty level. That is the community that we are serving," Rev. Bottari said.
In 2014, the church decided to take advantage of New York City's food waste management program, which was a year into its pilot phase. The program required residents of over 3,000 homes on the Island to set aside their food scraps for composting.
Unlike some other parts of the city where availability of land is a major challenge to composting, on Staten Island, many homes and churches have yard space to spare.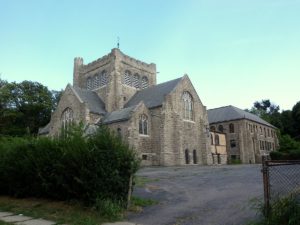 On the North Shore of the Island alone, three churches — Christ Church in New Brighton, Castleton Hill Moravian Church on Victory Boulevard, and Olivet Presbyterian Church in West Brighton — are all actively involved in gardening and compost-making.
"God provides everything, and the one thing God has provided for us that is so useful is this beautiful land. Here in the United States, churches have the land for free, we don't pay property taxes," Rev. Bottari said. "And really all we were doing was mowing the lawn and having occasional barbecues, and I thought that was rather disrespectful of God's earth."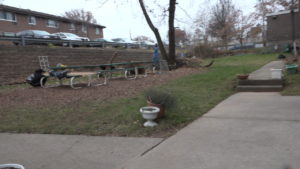 Olivet Presbyterian Church garden
Even though she did not know much about composting, Rev. Bottari pitched the idea of composting and gardening to her congregation. She explained to them how they could contribute to feeding some members of their community through the project where residents brought their food scraps for use at the garden.
"Many people think of composting as smelly, attracting vermin, and once I got involved, I found out that composting is the best way to feed the garden," Rev. Bottari said.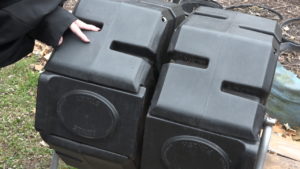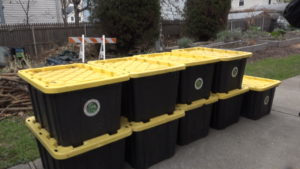 Reverend Bottari reached out to Master Composter, John Paternoster, a member of her congregation, and his team help drive the church's composting initiative, giving birth to the Olivet Heavenly Harvest Garden.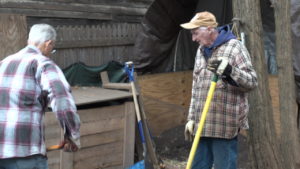 "Just like in anything, in life the compost needs food products, it needs air, it needs water, and it needs a place to live," Paternoster said.
Every week Paternoster encourages members of the congregation to bring their organic waste to church and the rest is supplied by GrowNYC.
"Today they brought 890 pounds for us to process," Paternoster said.
Manager of the NYC Compost Project Carol Hooper has served at the Snug Harbor Botanical Garden compost site since 2011. She believes the city is increasing the awareness on composting and embraces the work done by institutions like schools and churches.
Admitting that there is a rich history of gardeners on Staten island, Hooper says more gardens that are composting are springing up in the borough, as seen with Olivet Presbyterian Church, other churches, and schools.
More encouraging for Rev. Bottari is the fact the church's composting and gardening initiative has not gone unnoticed.
"One of the reasons we are able to continue to do this financially, is because of grants," Rev. Bottari said. "For example we've received a grant from the citizens committee for New York City."