Manhattan's Growing Pains: A Culture of Convenience
Marjan Riazi
Composting is a growing practice in New York City but Manhattan is still playing catch up. The Department of Sanitation (DSNY) currently serves more than 2 million residents across New York City with curbside organics service. By the end of 2017, that number will grow to 3.3 million. According to DSNY, all New Yorkers will be able to compost by the end of 2018 either through curbside service or "convenient neighborhood drop-off sites," but not all residents agree. Though Manhattan was one of the last boroughs to receive service, all neighborhoods are now eligible for collection service compared to other boroughs still experiencing a gradual roll out, and yet something is stopping this bastion of progress from fully adopting composting.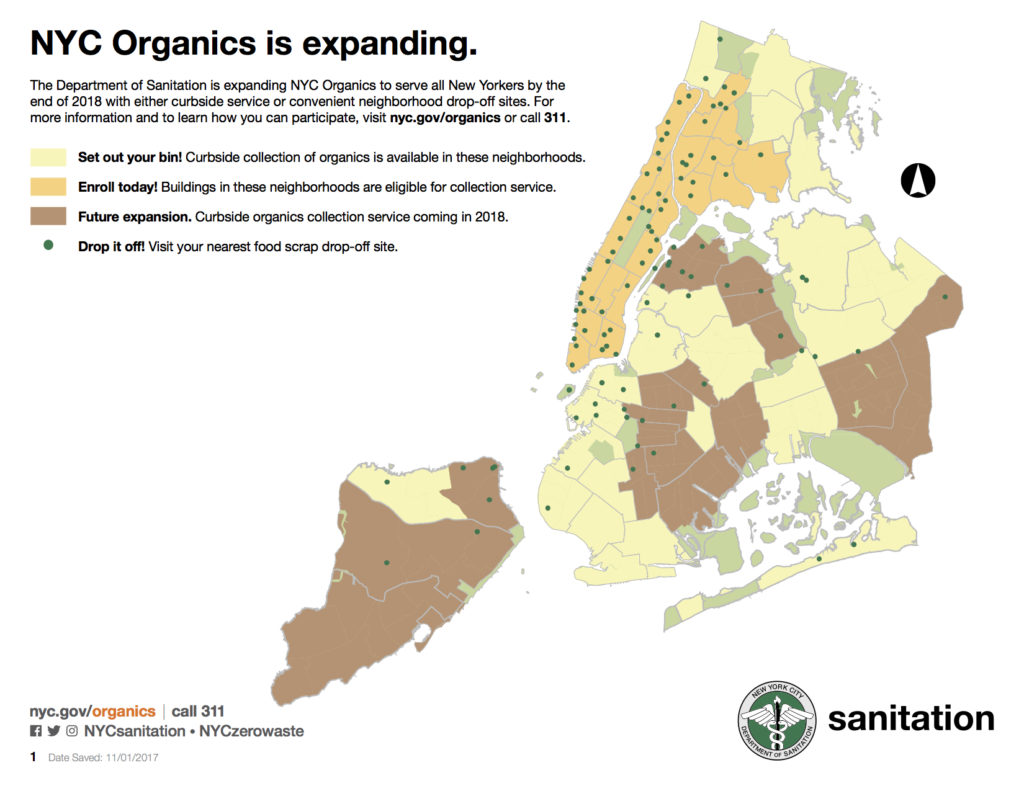 While the expansion map appears to illustrate full coverage of Manhattan, underlying issues remain for many residents alike who do and do not qualify for curbside pickup. Many available sites are primarily open one day a week and often during business hours. While the early hours are a helpful timeframe for commuters able to drop off scraps on their way to work, it is not the case for everyone. "If the center was on the way to work then I would make the effort, but if it's not going to work with my schedule and it's out of the way, no," said Ashley Koide, an East Village resident open to composting. Koide is aware of some of the city's composting efforts, but hasn't seen any outreach materials about the growing project in her own neighborhood.
Similarly, fellow East Village resident Kati Solomon wishes her local drop-off site offered more flexibility. "When they first started, it was five days a week, which was super convenient. In order to have composting in another location, they lessened the frequency at my drop point," she said, "so I appreciate that they're helping more people, but I can only take it Monday, Wednesday, or Friday so I probably bring it twice a week."
This means her sustainability-oriented lifestyle takes more planning than a non-participant. "I try to think about if I'm planning to cook over the weekends and I'll clean out my freezer," said Solomon, who stores food scraps in the freezer.
But not all New Yorkers have the luxury of consistent meal-prep time or a freezer with enough space. Christina Taylor, executive director of the environmental non-profit Friends of the Van Cortlandt Park, has been composting for years, but consistently runs into space issues. "Sometimes I don't [compost] because if you're not going to compost it quickly, you need to put it in a freezer so it doesn't start to smell," she said. "If you don't have freezer space — which unfortunately at home I never do — it's really hard to do." This concern among others is why she has become increasingly supportive of curbside brown bins that offer an outdoor alternative to "potentially rotting and decomposing food in [the] house."
While the outdoor bins are more noticeable with more buildings jumping on board, questions still arise. Different websites offer guidelines on what to compost and various services around the city also maintain inconsistent restrictions. Bryant Park, the city's first public park to implement an innovative new composting project, offers quick lessons to lunch-goers who want to divert their organic waste. But the program's workers are sometimes met with confusion from veteran composters. "People come up and ask us, 'Why are you accepting soiled paper and bones? I can't do that at my compost at home,'" explained Maureen Devenny, operations manager at Bryant Park, which has a industrial level composting program that can accept a wider array of organics. "So even if there are people at the park who have a baseline understanding of composting and practice it in their own homes, the differences of what we're able to accept and what their neighborhoods accept is another learning curve even if they're on board with the idea." She and her team have partnered with DSNY to pilot the lunchtime program in hopes of getting more consumers to reconsider their practices not only at home, but at local businesses too. "I think people don't realize composting has so many veins and shades of it that don't always align."
DSNY recognizes how confusing this concept can be and is trying to assist residents based on their neighborhood's respective needs. Andrew Hoyles, senior manager of organics outreach at DSNY, said they have a broad-based strategy for raising awareness of the program. "We try to meet residents where they're at in every single way. We have an official mailing we provide to all residents who will be receiving a brown bin, but if you receive mail from the city or some official capacity, do you read that? No. But it's part of the process of trying to inform everyone." His team also presents at community board meetings and to elected officials so they are able to inform constituents from a top-down approach in addition to outreach at the community level at farmer's markets and during brown bin distributions.
I don't think that should count as everyone having access to compost in 2018.

Missed points of contact are inevitable in an evolving program of this scale, but some residents still don't think DSNY should consider composting accessible to all residents based on the current infrastructure. With curbside restrictions, conflicting hours of operation, and locations outside of daily routine, some residents said they still would not be able to compost. "I don't think that should count as everyone having access to compost in 2018," said Koide. The priority of convenience in a bustling city is a major factor DSNY will need to strategize as they address some of the other structural barriers facing New York composting practices.
For the Love of Leftovers: Reducing Restaurant Waste in Flushing
Mengchen Zhang
As one of the largest immigrant communities in the United States, Flushing is more than a melting pot of cultures and races; it's a magic pot of all kinds of delicious food. Because of its large Chinese population, you can have almost any style of Chinese cuisine here. And these are only a fraction of the 6,000 Chinese restaurants in New York City, according to one 2011 report. While these restaurants greatly satisfy the needs of foodies, they also create some concerns for the sanitation officials and composting advocates. Composting at Chinese restaurants comes with an extra set of barriers due to the nature of the cuisine's food scraps and, often, the small size of many of these restaurants.
Every year in New York City, 70 percent of food waste comes from restaurants, which is one of the biggest impediments towards reaching the goal of zero-waste by 2030. Going zero-waste is impossible if the restaurants aren't on board. In 2015, an organic waste law was passed that requires large businesses to separate their organic waste, similar to recycling requirements that will go into effect in January. There is also an on-going effort to get more small and medium-sized businesses involved in composting. This past October, Department of Sanitation (DSNY) held a public hearing to discuss expanding requirements for smaller establishments.
The effort has not been very welcomed by local businesses because of the space constraints, added costs from carting, training, and potential fines. "They are faced with sky-high rent, excessive taxes, and the minimum wage increase; and now more than ever, they need incentives to continue to hire locally and create economic development, not to mention give back to the communities they serve," argued Danna DeBlasio from National Supermarket Association during the hearing according to the transcript.
These concerns are confirmed here, on 40th street in Flushing, where a cluster of Chinese restaurants stands. Employees at several restaurants, including Shanghai You Garden, complained about the "inconvenience" and "extra work" of separating out food scraps from the rest of the trash. At Mong Kok, a manager who refused to give his name, admitted to already being stressed by recycling requirements. He said the money the restaurant spends on trash collection each month is almost twice the amount of its rent and hiring another carrier to collect organic waste would cost even more. Danny Li, an employee at Fu Run, said he knows separating organic waste and composting will be very helpful for the environment, but he also admitted that it would require them to provide more space and labor to get the job done.
There are other challenges when it comes to collecting organics from the city's many Asian food restaurants because of the frequent use of the flavor enhancer monosodium glutamate (MSG), and questions about its health effects. Even for organic waste, the existence of MSG might have a damaging effect. According to an early report about EcoScraps, a composting company in San Francisco, the staff claimed the compost they made from some Chinese restaurant dumpsters killed the plants within 12 hours, mostly because of the MSG. The U.S. Food and Drug Admission (FDA) considers the addition of MSG to foods to be "generally recognized as safe" (GRAS). But also noted that "many people identify themselves as sensitive to MSG" and unfortunately "scientists have not been able to consistently trigger reactions." So far there are no studies to solidly prove exactly how MSG in organic waste can influence compost and plants that grow out of it, but for many people, the fact that MSG is a chemical and has a different breakdown process compared with other organic waste is enough to exclude it from compost.
Another issue for restaurants' organic waste is the heavy reliance on animal products. Restaurants like Mong Kok can consume dozens of ducks, chicken, and other meats products — far more than an average family would consume in one day. The meat scraps, bones and other leftovers contain animal oil, which could be much harder to break down compared to vegetables and fruits. Many composting sites like the Queens Botanical Garden, only accept food scraps without meat, bone, dairy and any other animal products.
"Because we are processing it at a reasonably small-scaled composting site, we prefer not to deal with meat, fats, and dairy because they have some different considerations in terms of health issues and odor," said Vanessa Ventola, the Outreach Coordinator for New York City Compost Project Hosted by Queens Botanical Garden.
Despite these barriers, DSNY and composting advocates are still working towards the 2030 Zero waste goal. One way is to set up incentive. Awarding grants could help the restaurants to participate in organic waste recycling with relatively less financial burdens. DSNY provides a "Microgrant Program" that awards grants of up to $2,000, plus technical advisory and other goods and services, to businesses that demonstrate a need for support and a viable implementation plan according to Baird Colette, a spokeswoman for DSNY.
There are also examples set by other pioneer cities, like San Francisco and Seattle, that started requiring restaurants to compost their waste back in 2009 and 2010, respectively. In Seattle, commercial compost collection service prices are 32 percent below garbage prices, according to the city government. There are also cities in Asia, like Hong Kong, working on getting their restaurants to compost, which can provide many experiences to restaurants here in Flushing, and all of New York City as well.
"Organics recycling has to be easy for businesses if we expect them to do it," argued Meredith Danberg Ficarelli, of Common Ground Compost, in her speech during the hearing. "We need to create incentives through ease of use and through design."